MPM has always been shaped by the community.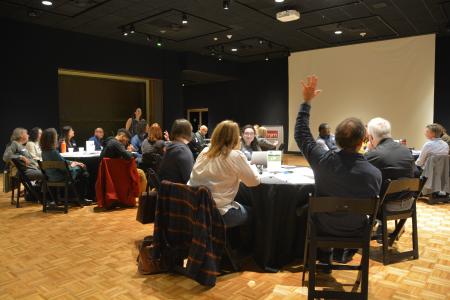 The Future Museum will not just continue that tradition, but make it the heart of the Museum. 
In Potawatomi, Milwaukee means "gathering place by water." The Future Museum is committed to creating a space where diverse groups of people can come together to learn about and discuss the most pressing issues of our time.
For too long, natural history museums have portrayed global cultures through moments stuck in the past rather than by demonstrating how these cultures' traditions have persisted through time. The Future Museum strives to create a new model for natural history museums—one that shares cultural stories from the perspectives and voices of the people whose cultures are represented in the exhibits.
The Planning Phase for the Future Museum began in 2019 with workshops and focus groups that explored the Museum's vision of using our collections and exhibits to illuminate the interconnectedness of nature and human cultures. A diverse group of 30 people, including Milwaukee Public Museum (MPM) staff, statewide cultural and business leaders, educators, scientists from museums across the country, environmental activists, and MPM docents, met to identify the "pillars" for the Future Museum. These pillars were then shared with focus groups and at a town hall of hundreds of people before they were finalized. To ensure we received input from a diverse audience, the Museum tapped into cultural leaders across the state—from community activists to leaders of corporate DEI groups.
---
Five Pillars
Understanding the past and present to inform the future. Museums are often about the past. Our Future Museum will help visitors connect the past to the present, helping people think critically and make good decisions for our global future. It will explore how different people and cultures have been connected to—and influenced by—the natural world.
Activating collections and giving visitors access to original research. We put our experts and collections front and center, engaging visitors with what happens behind the scenes and sparking important conversations about issues that inspire future scientists.
Learning science by doing science. We create citizen scientists through programs that ignite collaborative learning for people of all ages and abilities.
Creating access and engagement statewide. We deliver educational dialogue, digital resources, and hands-on activities across Wisconsin to help people explore nature and cultural connections wherever they live, work, and play.
Being a relevant and trusted resource. We remain a trustworthy connector of current information, debate, and innovation created through partnerships with statewide universities and respected nonprofits.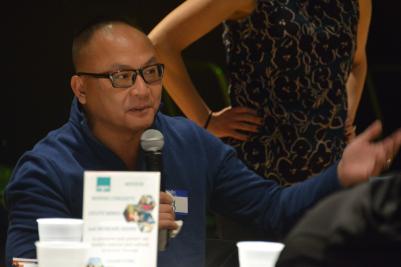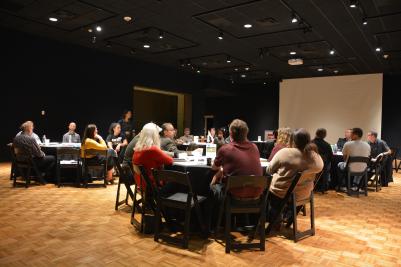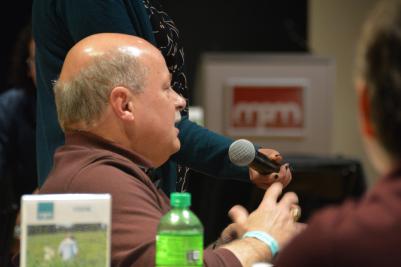 ---
Community Engagement
In 2020, the Design Phase began for both architectural and exhibit design. Community feedback has been a major focus of every part of this phase. Below are some examples of ways we have engaged the community throughout this process.
A Board committee was created to oversee the exhibits and content decisions for the Future Museum. This committee was built with equity and inclusion in mind; members are professionals in a variety of fields and come from a variety of cultural backgrounds.
Community members assisted in the architecture and exhibit firm selection process. They sat in on presentations by the finalists and provided feedback for Board committees to review and take into consideration before making their recommendation.
Design firms were chosen, in part, based on their identified commitment to and past success in working with diverse communities on building and design projects.
Designers began their work with a seven-day, 28-stop trip across Wisconsin, meeting with local representatives along the way—ginseng farmers, dairy farmers, environmentalists, educators, students, cultural and tribal leaders, supper club owners, politicians, and more.
The architects designed three concepts that were shared with focus groups made up of thousands of people throughout the state. The design chosen at the end received the highest rating from the groups and incorporates their feedback.
The first phase of exhibit design involved creating the themes and storylines that will be shared in the Future Museum. Museum curators and the exhibit design firm developed 40 possible concepts that community members were asked to weigh in on. From thousands of focus groups held across the state – in-person and via Zoom – five concepts were chosen. One of the concepts, called "Ways of Knowing," has become a major driver for the Future Museum. "Ways of Knowing'' seeks to share the many ways people understand and interpret our world, through both scientific study and cultural traditions. "Ways of Knowing" is a commitment to acknowledge and embrace the many ways different peoples learn and obtain knowledge.
As exhibit gallery concepts were developed we again went back to the community to discuss specific ideas or needs: What do educators need in our exhibits? What stories do Wisconsin's Native American tribes want to tell in various galleries? How can the work of our statewide water and environmental organizations be highlighted in our exhibits? Whose voices should speak in the cultural exhibits and what stories should they share?
We have employed two specialty firms to work on access for people with disabilities, including LCM Architects (a disability-owned architecture firm) and Architecture for the Blind. They have held multiple sessions with MPM's Community Engagement & Advocacy Officer as well as community groups representing people with various disabilities to discuss how to make the Future Museum meaningful and navigable for all visitors.
We are working directly with many cultural groups in our state – African, African American, European, Jewish, Hmong, Latinx, Native American, and more – to ensure their cultures are represented and celebrated in exhibits in the Future Museum.
The building plans prioritize equity and inclusion: We've committed to 20% of firms being disadvantaged business enterprise (DBE), women business enterprise (WBE), minority business enterprise (MBE); 40% of the construction workforce from Milwaukee Residence Preference Program (MKE RPP); and 50% from Milwaukee County. We have selected Cross Management as our DBE Inclusion Monitor and added that firm to our team in 2023.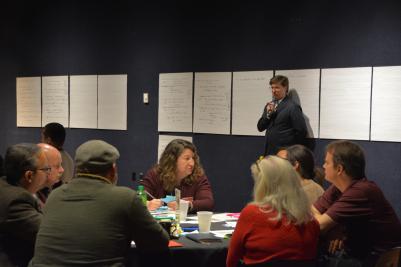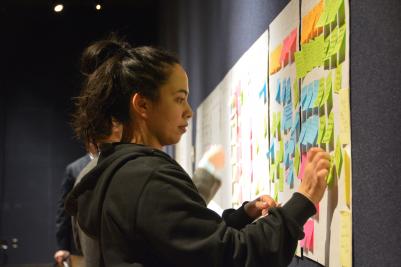 ---
Neighborhood Involvement
We are excited to locate the Future Museum in the heart of city neighborhoods – namely Halyard Park and Hillside. The Future Museum will be near schools, a Boys & Girls Club, and other youth-serving organizations, churches, housing developments, and neighbors. 
Since 2020, we have been working with the Hillside and Halyard Park neighbors. The Future Museum Chief Planning Officer attends neighborhood association meetings on a regular basis to provide updates and seek feedback. Neighbors have also participated in focus groups about the architecture and exhibit designs with design firm representatives. 
Feedback from our future neighbors has helped drive the architectural designs. Neighbors shared that they wanted an iconic building that would make their neighborhood proud. They also shared that garden space and areas for them to gather, hold farmers' markets, and have more access to nature are important. Based on this feedback, the Museum's Plaza Gardens was designed. These gardens, as well as the First Floor of the Future Museum, will be free and open to the public. Spaces are being specially designed for hosting neighborhood events and meetings, and the gardens provide reflective and educational spaces for visitors to enjoy and learn about nature in an urban environment.
The Museum is presently working with the neighborhoods to partner on educational programming. All neighbors can sign up now to receive free family memberships, allowing access year-round to the current Museum. We have also been selected by the United Way Community Partners program to partner with the MPS school O.W. Holmes Elementary. This provides a dedicated educator to work specifically on programs to connect the school's 289 students (98% are students of color and 99% come from economically disadvantaged homes) to the Museum and our resources. We hope this program will be a pilot to determine other ways we can ensure access for our new neighbors.
---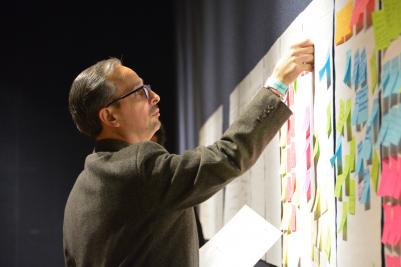 We invite you to check back often, see what's new, and let us know what you think. Send us a note at future@mpm.edu with any questions or feedback you may have.
---