The MPM Book Club is a volunteer-led program that invites interested adults to join lively monthly discussions!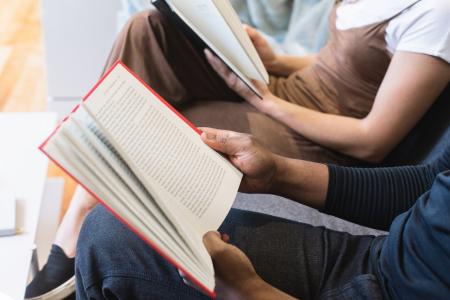 MPM docents facilitate the program and choose non-fiction books of a scientific nature that relate to Museum exhibits, research, or programs.
Dates and Times
First Mondays, September through May
12:00 p.m. discussion and brown-bag lunch; Docent-led tour to follow
Cost
FREE
All are welcome to join; no reservations needed.   
Location
Garden Galleries A/B, Ground Floor
Questions? Contact koppa@mpm.edu
---

Upcoming Books
Check back this summer for our Fall 2020 books.
---
Past Books and Dates
May 6, 2019:  Walking Home Ground by Robert Root  
September 9, 2019: Spineless: The Science of Jellyfish and the Art of Growing a Backbone by Juli Berwald
October 7, 2019: Atlas of a Lost World: Travels in Ice Age America by Craig Childs
November 4, 2019: Eager: The Surprising, Secret Lives of Beavers and Why They Matter by Ben Goldfarb
December 2, 2019: American Eden: David Hosack, Botany and Medicine in the Garden of the Early Republic by Victoria Johnson
January 6, 2020: The Elephant Whisperer: My Life with the Herd in the African Wild  by Lawrence Anthony
February 3, 2020: For All the Tea in China: How England Stole the World's Favorite Drink and  Changed History by Sarah Rose
March 2, 2020: From Here to Eternity: Traveling the World to Find the Good Death by Caitlin Doughty
And more!