We're exploring the space where science and culture intersect, and we're doing it over drinks.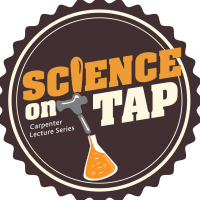 Grab a brew and pull up a chair. This evening lecture series features some of the best minds in science in a fun, social environment. From the sensation of being hugged by an octopus to quantum mechanics, Science on Tap looks to answer questions you never knew you had!
---
Upcoming Events

The Incredible World of Bats — Why We Need Them
Thursday, November 15, 2018
Dr. Merlin Tuttle — Founder and Executive Director of  Merlin Tuttle's Bat Conservation and Research Fellow, Department of Integrated Biology, University of Texas at Austin
Bats comprise a fifth of all mammals. They come in an incredible variety, as cute as any panda or as strange as any dinosaur, from tiny bats that live in beetle holes in bamboo to giant flying foxes with six-foot wingspans. They're found nearly everywhere, are primary seed dispersers from deserts to rainforests, pollinate some of the world's most valuable crops, and save American farmers billions of dollars annually in avoided pesticide use.  They maintain long-term social relationships similar to those of humans, elephants, and dolphins, share information, and even adopt orphans. 
---
Past Events
March 29, 2018-  Dr. Takeshi Inomata - Clues to the Origins of Maya Civilization Revealed
Takeshi Inomata is Professor and Agnese Nelms Haury Chair in Environment and Social Justice at the School of Anthropology, University of Arizona. He has been investigating the origins of the Maya civilization and its change through excavations at Aguateca and Ceibal, Guatemala, and recently began a new project to examine the relationship between the Olmec and Maya civilizations.  Research at Ceibal revealed the emergence of the Maya was stimulated, not by direct influence from the Olmec, but by more complex interactions with various regions. The application of new technologies, including high-precision radiocarbon dating and airborne laser mapping, is providing exciting data on the origins of the Maya.
November 2, 2017 - Dr. Justin Vandenbroucke - Neutrino Astronomy at the South Pole
Dr. Vandenbroucke uses innovative instruments around the world to detect high energy particles from the cosmos. Understanding the smallest particles in the universe is necessary to understanding the largest objects in the universe and vice versa. Vandenbroucke received his Ph.D. in Physics at UC-Berkely in 2009. He was a Kavli Fellow at SLAC National Accelerator Laboratory and a NASA Einstein Fellow at Stanford University before joining the UW faculty in 2013.
September 28, 2017 - Mary Roach -  Grunt: The Curious Science of Humans at War
Spend the evening with New York Times Best-Selling Author Mary Roach! How is a wedding gown like a bomb suit? Why are shrimp more dangerous to sailors than sharks? Find out on September 28 when Mary Roach discusses her new book, Grunt: The Curious Science of Humans at War. America's favorite science writer uses humor and compassion as she tackles how science is trying to conquer a soldier's most challenging adversaries and answers questions not found in any other book in the military.
April 27, 2017 - Jennifer Casey - The Nature of Slow Food
Jennifer Casey, Executive Director, Fondy Food Center, is a registered dietitian and professional cook. She also serves as Slow Food USA's Wisconsin Governor and co-chair of the Slow Food Midwest Ark of Taste Committee.
Join us when she discusses the importance of biodiversity in our food system and Slow Food's role in protecting and promoting diversity.
March 16, 2017 - Michael E. Mann, PhD - The Madhouse Effect
Dr. Mann is Distinguished Professor of Atmospheric Science at Penn State, with joint appointments in the Department of Geosciences and the Earth and Environmental Systems Institute (EESI). He is also director of the Penn State Earth System Science Center (ESSC).
Dr. Mann is the author of several books including his most recent work, The Madhouse Effect, which features cartoons by Pulitzer Prize-winning political cartoonist Tom Toles. Through satire, The Madhouse Effect portrays the intellectual pretzels into which denialists must twist logic to explain away the clear evidence that man-made activity has changed our climate. Learn more about Dr. Mann »
November 10, 2016 - Diana Johnson, M.S.- Uncover the Forensic Science Behind Wisconsin's "Hidden" Criminal Cases
We're uncovering the dark, seedy side of Wisconsin's criminal element!  In conjunction with our new temporary exhibit, Hidden Wisconsin: Unseen. Unknown. Uncovered., Assistant Professor and Chair of Forensic Science at Marian University Diana Johnson will divulge the forensic science that helped solve some of our state's lesser known criminal cases. Join us for a look at cases that are no longer Hidden in Plain Sight, Hidden Beneath, Hidden in History, and Hidden Forever. Learn more about Diana Johnson » 
September 8, 2016 - Dr. Jorge Cham - The Power of Procrastination & The Science Gap
Dr. Jorge Cham is the creator of "PHD Comics", the ongoing comic strip about life in Academia. A recent survey by U.C. Berkeley found that 95% of all graduate students feel overwhelmed, and over 67% have felt seriously depressed at some point in their careers. Join us as Dr. Cham recounts his experiences bringing humor into the lives of stressed out academics, examines the source of their anxieties and explores the guilt, the myth, and the power of procrastination. Learn more about Dr. Jorge Cham » 
June 16, 2016 - Dr. Caroline VanSickle - Hips Don't Lie
Human male and female skeletons can be distinguished based on their pelvic anatomy because the female pelvis has adaptations for birthing large-brained infants that the male pelvis lacks. The simplest explanation for these differences is that female human ancestors needed adaptations to expand the birth canal and give birth to their large-brained babies.
Yet new fossil discoveries challenge this simplistic version of events. To study how the human pelvis came to be, Dr. VanSickle examined pelvic remains from ancient human relatives spanning from early Australopithecus to the more recent Neandertals. Her research shows the shape of the human pelvis is more likely the complex result of multiple evolutionary factors, and not dictated solely by infant brain size. Learn more about Dr. Caroline VanSickle »
April 28, 2016 - Science Evangelist Ainissa Ramirez - The Science of Football
America's most popular spectator sport, football, is placed under the microscope. In this Science on Tap, scientist and author Ainissa Ramirez explores the science behind football, touching on topics that range from how Vince Lombardi was a game theorist to why woodpeckers don't get concussions. Learn more about Ainissa Ramirez»
February 11, 2016 - Dr. Paul Sereno - SuperJaws -- Bigger than T.rex!
Follow the spectacular journey of an explorer who has discovered dinosaurs on five continents. Meet sail-backed meat-eaters, toothy fern-mowers, weird crocs, and soaring pterosaurs, as Sereno paints a vivid picture of the extinct castaways he has unearthed on drifting continents.  Now an update on the latest unveiled, "SuperJaws" aka  Spinosaurus. Learn more about Dr. Sereno»
Dr. Harold Tobin - A Decade of Mega-Earthquakes and Deadly Tsunamis
Before the 2004 Indian Ocean tsunami, it had been more than 40 years since the last magnitude-9 earthquake or large tsunami happened anywhere on Earth. Since then, there have been several tsunamis that have killed thousands, and even more large and devastating earthquakes in places like Haiti, Japan, Nepal, and Chile. What's going on? Are these events becoming more common? The answers to these questions and more will be addressed as Dr. Tobin explores what we now know and what we don't about these cataclysmic events. Learn more about Dr. Tobin»
June 12, 2015 - Sy Montgomery - The Soul of an Octopus
Can an octopus have a mind and feelings, much less a soul? Ask Sy Montgomery. In researching her two newest books, she established such close friendships with giant Pacific octopuses that the animals would rise from their tanks to greet her, and then embrace her with thousands of powerful, white suckers--all while looking her directly in the eye and turning color, flushed with emotion.
During this exclusive Milwaukee lecture, Sy will share details of these extraordinary relationships, as well as surprising scholarly research revealing octopuses' remarkable intellectual abilities as they solve puzzles, communicate through color and shape, and play with people and toys. Learn more about Sy Montgomery » 
---
Official Science on Tap Media Partner: