Kohl's Thank You Thursdays (KTYT) at MPM are back!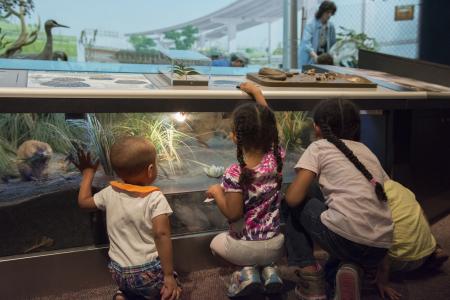 ALL visitors* (excluding groups) receive FREE access to the permanent exhibits of MPM on the first Thursday of every month during Kohl's Thank You Thursday.
Due to the COVID-19 pandemic, your visit will look differently than normal; be sure to review our below policies and ticketing information carefully. 
*Children must be accompanied by an adult to receive free admission. 
---
Dates and Times
10:00 a.m. to 4:00 p.m. (last entry at 3:00 p.m.)
March 18, 2021
April 1, 2021 
May 6, 2021**
June 3, 2021**
July 1, 2021***
August 5, 2021
September 2, 2021
October 7, 2021
November 4, 2021
December 2, 2021
January 6, 2022
February 3, 2022
**See the Mandela exhibit for only $4.
***See the Mandela exhibit for FREE.
---
Visitor Policies

Timing is Everything
Tickets are limited to meet a reduced visitor capacity, so advanced online purchase is strongly recommended. On-site purchases must be made via debit/credit card; no cash will be accepted. 

Cover Up
For the safety of the community and our staff, a properly worn mask (over both the nose and mouth) is required by all visitors ages three and older at all times. Persons with disabilities or medical conditions are exempt from this requirement.

Know Where to Go
Visitors may enter through MPM's main entrance on Wells Street or through the MacArthur Square entrance during the day indicated on their ticket. The James Lovell Street entrance remains closed. Entry to the Museum building is one-time only.

Map it Out
One-way paths have been created in the Museum Marketplace, and certain exhibits are temporarily closed. On exhibit floors, visitors are encouraged to peruse at their leisure while maintaining proper distancing.

Be Respectful
Please maintain six-foot social distancing between family groups during your visit. Only one family group will be allowed per elevator at a time, which may increase wait times.
 

Keep Clean
Please take advantage of the hand sanitizer stations throughout the Museum and avoid touching surfaces.
---
Reservations
Admission is free, but we strongly recommend a timeslot be reserved in advance.* Walk-up tickets are not guaranteed.
By purchasing admission to MPM, you agree to follow our COVID-19 Visitor Policies.
*Children age 0-3 must be accounted for in your total number of tickets when making your reservation.