The MPM Book Club is a volunteer-led program that invites interested adults to join lively monthly discussions!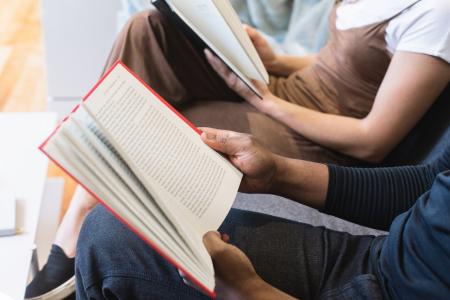 MPM docents facilitate the program and choose non-fiction books of a scientific nature that relate to Museum exhibits, research, or programs.
Dates and Times
First Mondays, September through May
12:00 p.m. discussion and brown-bag lunch; Docent-led tour to follow
Cost
FREE
All are welcome to join; no reservations needed.   
Location
Garden Galleries A/B, Ground Floor
Questions? Contact koppa@mpm.edu
---

Upcoming Books
April 1, 2019:  Jewels: A  Secret History by Victoria Finlay 
May 6, 2019:  Walking Home Ground by Robert Root  
---
Past Books and Dates
March 5, 2018: Lingo: Around Europe in 60 Languages by Gaston Dorren
April 2, 2018: I Contain Multitudes: The Microbes Within Us and a Grander View of Life by Ed Yong
September 10, 2018: Death and Life of the Great Lakes by Dan Egan
October 1, 2018: An Indigenous Peoples'  History of the United States by Roxanne Dunbar-Ortiz
November 5, 2018:  My Two Elaines: Learning, Coping, and Surviving as an Alzheimer's Caregiver by Martin J. Schreiber and Cathy Breitenbucher
December 3, 2018: Astrophysics for People in a Hurry by Neil DeGrasse Tyson
January 7, 2019: The Feather Thief by Kirk W. Johnson
February 4, 2019: Venomous: How Earth's Deadliest Creatures Mastered Biochemistry by  Christie Wilcox 
March 4, 2019:  Musicophilia  by Oliver Sacks
And more!