Embark on an out-of-this-world date!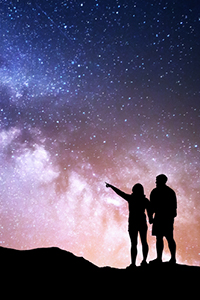 During this special Valentine's Day program at the Daniel M. Soref Planetarium, take a romantic tour of the universe to explore the magic of night and constellations of love. Attendees will receive a red rose and box of chocolates to complete their perfect evening.
Add on a Love & Heartbreak tour to learn the science behind love! The Love & Heartbreak tour is a special 45-minute edition of our MPM Exposed tour. Hear stories of love, heartbreak, and weird mating habits of the animal kingdom. Play matchmaker with our exhibits, be thankful you aren't an angler fish, and get the science behind love. Love & Heartbreak tours must be taken on the same day as your Romancing the Stars reservation.
Dates and Times
Saturday, February 11, 6:00 p.m. or 7:00 p.m.
Tuesday, February 14, 6:00 p.m. or 7:00 p.m.
Cost and Tickets
$25 per couple ($12.50 per person)
This event is sold out.