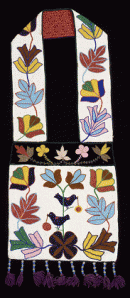 Region :
McCord, near Tripoli, WI
Material :
Glass and plastic beads, cotton, velvet, wool yarn.
This bag of dark blue velvet cloth contains a red and white floral pattern cotton cloth lining/front. Beaded entirely in floral and bird designs, the bottom fringe has blue and clear plastic beaded tassels with purple wool yarn pom-poms.
Source :
Collected and donated by Dr. George MacKinnon of Marshfield, WI.