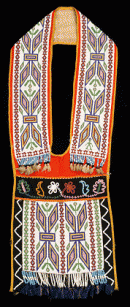 Region :
Great Lakes Area
Material :
Glass beads, textiles, yarn
This bag contains both geometric and floral design elements. The strap is fully beaded with tassels at the bottom. The horizontal panel exhibits the floral design. The bag is trimmed with yellow piping. The strap/pouch is geometric.
Source :
Donated by Mrs. Richard Herzfeld and Friends of the Museum. Collected by James Howard, collector and anthropologist, in 1961; donated to MPM 1965.