BODY WORLDS & The Cycle of Life
BODY WORLDS & The Cycle of Life closed on June 29, 2014.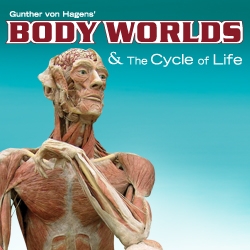 In BODY WORLDS & The Cycle of Life, the latest exhibition from physician and pioneering anatomist Dr. Gunther von Hagens, you'll see the body throughout the human life cycle and across the arc of aging. More than 200 plastinates—real human specimens preserved through Dr. von Hagens' invention, the remarkable process called Plastination—reveal the human body in all its stages, across youth, growth, maturity and advanced age, and in all its conditions, from health to distress to disease.
How Have You Changed Since 2008?
Since 2008, many guests have asked when a BODY WORLDS exhibition would make a return visit to MPM. Now, six years later, visitors have the chance to experience this phenomenon again, this time with a special emphasis on the exploration of the life cycle and the arc of aging. Furthermore, each guest has a unique set of new experiences from which they can now ask questions of the exhibition. Just as our body is always changing, so is the lens through which we view BODY WORLDS. As we age, we experience the body in different ways. At each stage of life, we seek new answers.
Visitors will marvel at the life processes that are captured in the exhibition and will leave with a new appreciation of the power we have to keep our bodies healthy throughout our lifespan.
---
Presented by: