We're exploring the space where science and culture intersect, and we're doing it over drinks - from home! 
Grab a brew (or root-brew!) and meet us online. This virtual lecture series features some of the best minds in science. From the sensation of being hugged by an octopus to quantum mechanics, Science on Tap looks to answer questions you never knew you had!
---
Upcoming Events
Date and Time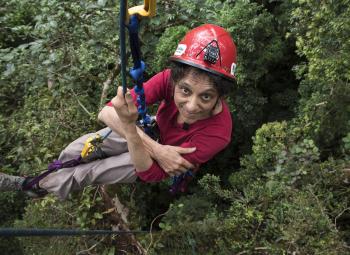 Thursday, October 22, 2020
7 p.m. virtual Zoom lecture
Cost and Tickets
Members FREE; non-member price is $5 per household. To purchase for groups of 10+ (non-household), please call 414-278-2728 during Call Center hours (Wednesday-Sunday, 9 a.m. to 3 p.m.).
Registration is required and attendees will receive a Zoom link prior to the lecture.
Details
"Tapestry Thinking: Weaving the Threads of Rainforests and Humans" - Nalini M. Nadkarni, Professor of Biology, University of Utah
Nalini Nadkarni will discuss how her experiences as a rainforest scientist precipitated her explorations into diverse ways of engaging humans with the natural world. She describes her use of mountain-climbing techniques, construction cranes, and hot air balloons to ascend to the treetops in tropical and temperate rainforests to discover the importance of canopy-dwelling plants in ecosystem processes, and the fragility of the rainforest tapestry. Nalini also highlights her approaches to help narrow the increasing distance between humans and nature. This interweaving of plants, animals, and people can help to create a stronger tapestry of conservation and engagement with nature!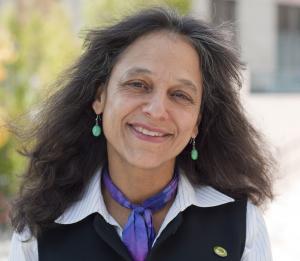 About the Speaker
Dr. Nalini Nadkarni is a Professor of Biology and forest ecologist at the University of Utah. She studies the plants and animals that live in rainforest canopies, with support from the National Science Foundation and the National Geographic Society. She has written more than 130 scientific papers and three scholarly books. She has collaborated with modern dancers, poets, and creative writers to communicate the beauty and complexity of forests to arts audiences. She has brought science lectures, conservation projects, and nature imagery to the incarcerated in prisons across the country. Her work has been featured in journals ranging from Science and the Journal of Ecology to Glamour and Playboy. Her recent national awards include a Guggenheim Fellowship, the AAAS Award for Public Engagement, the William Julius William Award for Achievement in Social Justice, and the Archie Carr Medal for Conservation.
---
Past Events
January 16, 2020 -  Dr. Jo Handelsman  -  "Soil: A Precious Resource Under Threat"
October 17, 2019 - Dr. Cheryl Y. Hayashi - "Secrets of Spider Webs"
April 11, 2019 - Dr. Mark Siddall  - "Toxic Tales Through Time"
February 21, 2019 - Corey Jaskolski - "Technology for Exploration"
November 15, 2018 - Dr. Merlin Tuttle -  "The Incredible World of Bats — Why We Need Them"
March 29, 2018-  Dr. Takeshi Inomata - "Clues to the Origins of Maya Civilization Revealed"
November 2, 2017 - Dr. Justin Vandenbroucke - "Neutrino Astronomy at the South Pole"
September 28, 2017 - Mary Roach -  "Grunt: The Curious Science of Humans at War"
April 27, 2017 - Jennifer Casey - "The Nature of Slow Food"
March 16, 2017 - Michael E. Mann, PhD - "The Madhouse Effect"
And more!
---
Official Science on Tap Media Partner: