Wehr Nature Center
June 18-21, 2021
---
Property Description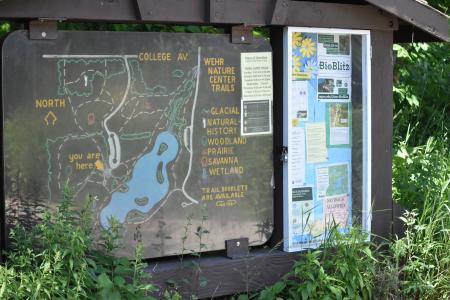 Wehr Nature Center and Whitnall Park contain a unique set of diverse natural environments in a familiar suburban setting. We think there's no better place to be reminded that there is astounding biodiversity in your own backyard, and how important that biodiversity is to all of us.  Wehr Nature Center is also fully accessible, making this an event for everyone!
Interesting Discoveries
Arisaema dracontium – Green dragon (not common in this area)
Ginkgo biloba – The ginko tree is native to China. It's widely used as a street tree (there are plenty in Milwaukee), but usually only males are planted as the females produce fruit that smell terrible when they break open. How it came to be where it is a bit of a mystery.
Pleuroloma flavipes millipede – First time this species has been documented in Milwaukee in more than 100 years. It's hard to tell from this how scarce or common the millipede actually is; chances are that nobody spent time looking for it, but also it's been a regular feature of the Wehr Nature Center grounds (and building!) for years and they didn't know what they had.
Two lepidoptera of note:
Cabera quadrifasciaria - Four-lined Cabera moth
Ponometia binocula - Prairie bird-dropping moth
These are both moths that require good quality prairie habitat to complete their lifecycle, which is exciting to find in a prairie restoration like Wehr's. 
---
General Results
Count

Taxon


1,048 species found

13 
Fish
9
Amphibians and Reptiles
11
Mammals
50
Other Invertebrates
60
Birds
450 
Insects
455 
Fungi, Lichens, Algae, and Plants
Click the button below to download a spreadsheet of the full results from this BioBlitz:
---
Hosted By
Wehr Nature Center
Participants
57 surveyors and educators from 18 institutions and organizations
Field Museum of Natural History
Marquette University
Milwaukee County Parks
Milwaukee County Parks Natural Areas
Milwaukee Public Museum
Prairie Enthusiasts
Purdue University
Schlitz Audubon Nature Center
UW - Madison
UW - Parkside
UW - Stevens Point
UW - Waukesha at Milwaukee
UW - Whitewater
Wehr Nature Center
Wisconsin Department of Natural Resources
Wisconsin Entomological Society
Wisconsin Metro Audubon Society
Wisconsin Mycological Society
---