While the scientists are in the field, join us for fun during BioBlitz at Pringle Nature Center!

---
Date and Time
Friday-Saturday, June 10-11, 2022
Location
Pringle Nature Center / Bristol Woods County Park
9800 County Hwy M B
Bristol, WI 53104
Cost
FREE
What is a BioBlitz?
It's a 24-hour celebration of biodiversity where scientists work together to see how many species of plants and animals they can find in one area. Learn more about MPM's BioBlitz.
WHY BRISTOL WOODS / PRINGLE NATURE CENTER?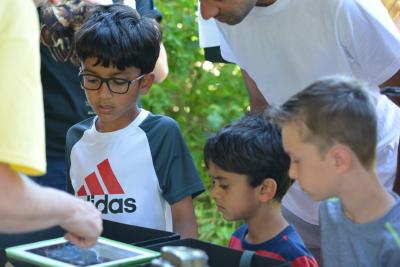 With nearly 200 acres of restored prairie, oak savanna, wetland, and woodland habitats, Bristol Woods is a refuge for many species of plants and animals native to the southeastern Wisconsin/greater Chicago areas. It will be an exciting challenge to see how many species we find!
The nature center patio, restrooms, and building are wheelchair accessible. The surrounding lawns are groomed with slight slopes connecting to a paved entry path, and parking lots have accessible parking. Currently, there are no ADA-approved trails in the park. If you require an accommodation, please email access@mpm.edu or call 414-278-6943.
EDUCATIONAL PARTNERS
Wisconsin Butterfly Monitoring Network: MPM and its partners recruit volunteers to survey our state's butterfly diversity as a way to help assess ecological change over time as well as to engage the public as community scientists
MPM Education Department
In-Person Activities
Saturday, June 11
10:00 a.m. - 3:00 p.m.
MPM Education Nature Journals - All day
Have you ever wanted to get involved in scientific research? Learn about community science, ways to get involved in your community, and ongoing research across the state. Pick up a MPM Nature Journal to take home and continue your exploration of the natural world this summer!
Butterfly Walks - 10:30 am. and 1:00 p.m.
Join MPM scientists on a butterfly walk to learn about the local species of butterflies and moths while collecting data!
Pringle Nature Center - All day
Learn about programs and stewardship opportunities at Pringle Nature Center, and meet the resident animals!
Scavenger Hunt—10:00 a.m. to 3:00 p.m.
Forest Bathing—11:00 a.m., 12:30 p.m., 2:00 p.m.: Teri Knuese, Forest Therapy Guide, will present and lead short demos of the forest-bathing practice.
Meet the Nature Center Animals—11:30 a.m., 1:30 p.m.
3:00 p.m. Closing Ceremony
How many species did we find?
---
Meet the MPM BioBlitz Team Leaders!
Dr. Ellen Censky – President & CEO
Ellen is a vertebrate biologist and was involved in organizing the very first public-based BioBlitz in 1996 in Pittsburgh, Pennsylvania. She has overseen 14 BioBlitzes in three states since then. The BioBlitzes that she organized were featured on a National Geographic Explorer program, in Smithsonian magazine, Ranger Rick magazine, NBC National News, NPR, USA Today, and numerous other radio shows and newspapers. She also wrote the guide for "How to Organize a BioBlitz."
Julia Colby - Organizer
Julia is the Vertebrate and Invertebrate Zoology Collections Manager at MPM. Her interests include taxonomy, systematics, and ecology. She holds a BSc from the State University of New York College of Environmental Science and Forestry and an MSc from the University of Nebraska - Lincoln. She will organize and coordinate the teams that survey the vertebrate animals.
Dr. Nick Dowdy - Team Leader for Invertebrates
Nick is the Head of Zoology at MPM. His research program is focused on the evolution of insect behavior, particularly the defensive strategies moths use to defend themselves from predators. He holds a BSc in Ecology and Evolution from the University of Arizona and PhD in Biology from Wake Forest University. He will organize and coordinate the teams that will survey insects and other invertebrate animals.
Dr. Christopher Tyrrell – Team Leader for Plants & Fungi
Chris is the Research Curator of Botany at MPM. He investigates plant systematics and evolution and is interested in developing research tools for museum collections. He holds a BSc  in Forest Ecosystem Restoration from University of Wisconsin - Stevens Point, an MSc in plant systematics from Iowa State University, and PhD in aquatic ecology from the University of New Brunswick (Canada). He will organize and coordinate the teams that will survey plants, algae, lichens, and fungi.
Mike Pauers - Team Leader for Vertebrates
Dr. Michael J. Pauers is the Adjunct Curator of Fishes and Orth Family Ichthyology Research Fellow at the Milwaukee Public Museum. Mike received his PhD from UW-Milwaukee in 2004. His major research interests are the evolution and behavior of fishes, especially the cichlids of Lake Malaŵi, Africa, where he currently collaborates with the Malawi Department of Fisheries on a project examining the taxonomy and phylogeography of the fishes of the genus Labeotropheus. He also has extensive experience with the fishes of Wisconsin, both as an educator and researcher of fish diversity. He is currently an Associate Professor of Zoology at UW-Milwaukee at Waukesha.