This exhibit's centerpiece, titled Indian Country, features a contemporary powwow grand entry scene with 37 life-sized figures dressed in colorful dance attire.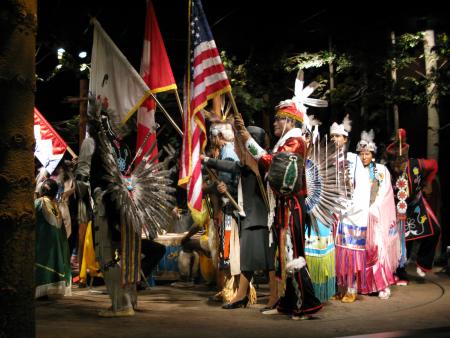 These figures are on an enormous turntable around singers at a drum and pass through areas of theatrical lighting accompanied by the sounds of American Indian music. Various aspects of contemporary American Indian life, reservation and urban, are shown in conjunction with the powwow.
The Indian Country powwow figures are based on life casts of Indian people representing Wisconsin's seven tribes. The local American Indian community has dedicated hundreds of hours to the fabrication of the powwow outfits and drum used in the exhibit.
Other segments present the history of American Indian and non-Indian relations. Subjects such as "The First Americans," "Outnumbered and Outarmed," and "Federal Policies and Indian Strategies" are explored in detail.
Looking for more  information on Wisconsin Indians? Visit MPM's Indian County Wisconsin project website.
---
Additional Local Resources
The Milwaukee Public Museum is proud to house and care for Native American artifacts and objects. 
 
Other Native American Museums and Cultural Cites in Wisconsin
Arvid E. Miller Memorial Library/Museum
Forest County Potawatomi Cultural Center, Library, and Museum
Forts Folle Avoine Historical Park  - Ojibwe Village
George W. Brown, Jr. Ojibwe Museum & Cultural Center
Gresham Railroad Depot Museum - Main Street, Gresham
Ho-Chunk Nation Cultural Tours
Indian Community School
Kinnamon School - N8493 County Rd E, Hayward WI 54843 - 715-634-8934
Madeline Island Museum
Menominee Cultural Museum
Menominee Logging Camp Museum
Native American Tourism of Wisconsin
Oneida Guided Reservation Tours
Oneida Nation Museum
Tribal Historic Preservation Office
 
Native American Events in Wisconsin
Hunting Moon Festival MKE
Indian Summer Festival