For more than 30 years, the Milwaukee County Zoo was home to one of our city's most famous residents -- a massive male gorilla named Samson.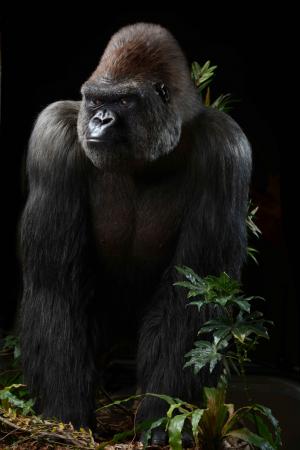 A silverback (adult male with silver-gray hair on back and shoulders), Samson was noted for banging on the windows and steel door of his enclosure to get visitors' attention. During his decades in Milwaukee, Samson became extremely popular with the local community, appearing frequently on local television and in publications as diverse as International Wildlife and the National Enquirer.
Today, the Museum showcases an exact,  scientifically accurate re-creation of the city's beloved Samson, created by MPM artist Wendy Christensen as the centerpiece of the 2007 exhibit Samson Remembered. After the close of the exhibition, Christensen entered Samson into the 2009 World Taxidermy Championships and came away with three top awards for her artistry: Best in World Re-Creation, Competitors' Choice Award, and the Judges' Choice Best of Show.
See the extraordinary re-creation of this beloved Milwaukee icon on the Museum's First Floor.