This March, take a dinosaur-sized step back in time and learn all about the creatures which once roamed the Earth.
Our featured exhibit this month is The Third Planet.
---
At the Museum


Exhibit Resource
Dino or Di-NO?
Even though dinosaurs have risen to fame in mainstream media, "dinosaurs" are only one group of many prehistoric animals that have lived on Earth. In this mini-series, play the Dino/Di-NO Game and visit some dinosaurs and non-dinosaurs at the Museum. Can you spot a Dino or a Di-NO? 
Member Perk
Dino Clue Crew
MPM is home to many dinosaurs! Members receive this Clue Crew via email to bring on their next visit to MPM to dig up facts and become experts on the dinosaurs who roam the Museum.
Not a member yet? Get access to Clue Crew and other perks when you join today! Your membership supports the Museum while giving you special benefits. Click here for details. 
---
At Home
Family Resource
Make a Dino Name
Did you ever wonder how dinosaurs got their names? Learn about the system scientists use to name animal and plant species. Then, design, name, and share your new dinosaur with us!
Dino Activities
Enjoy some family time while having fun practicing dino vocabulary and learning about fossils with these kid-friendly activities.
Connect the Dots
Crossword
Coloring
Milwaukee Public Library Reading List
Want to learn more about this month's theme? Milwaukee Public Library has put together a list of recommended reading for both children and adults. 
Early Learners
Parents and teachers, visit our Early Learning page for fun information and activities developed for our youngest explorers!
Collections & Research Connections
360 Tour
Hear from MPM scientists, get close-up looks at behind-the-scenes artifacts, and unlock the secrets of Earth's 4.5-billion-year history in this virtual tour.
The Dromaeosaur
MPM Curator of Geology Collections Patricia Coorough-Burke tells us more about the dromaeosaur, a dinosaur on display in both the Exploring Life on Earth exhibit and MPM's famous Hell Creek diorama. Learn more about this ancient scavenger and how our understanding of the dromaeosaur has changed as more evidence became available.
Adult Events
Lunch and Lecture
"Ruffled Feathers: The History and Art of MPM's Dromaeosaurid Models"
with Patty Burke, Curator of Geological Collections/Senior Collections Manager
In this virtual lecture, Patty will take you on a journey from fossil discovery to museum models; it is the story of science told through the lens of dinosaur art. Museums help guests visualize prehistoric life through artistic models that are informed by science. Over the last 30 years, MPM has presented three interpretations of dromaeosaurid dinosaurs, each model improved by new knowledge. 
Date and Time
Tuesday, March 9, 2021
11:30 a.m. virtual Zoom lecture
Cost
Members FREE; non-member price $5 per household.
MPM Night In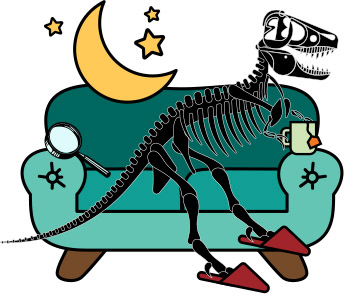 Stay home, put on your dino PJs, and join us for a night in with MPM! During this interactive virtual event, join our Educators and learn some "secrets" meant for older audiences only. Invite your quarantine bubble over, or stay in your own spaces and participate as if you were together.
Date and Time
Thursday, March 25, 2021
7:00-8:30 p.m.
Cost
$10 per member household; $15 per non-member household
Planetarium at Home
Did an Asteroid Really Kill the Dinos?
This month, members have access to view the Planetarium program Did an Asteroid Really Kill the Dinos? at any time. Explore the dinosaur disaster up close, supported by evidence from MPM's own Geology department, in this MPM original production. A link will be sent to members via email.
Not a member? Join today!