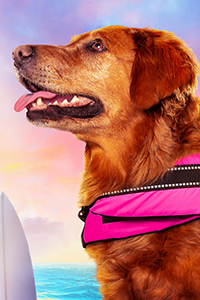 Join an immersive giant-screen adventure to experience the life‐saving superpowers and extraordinary bravery of some of the world's most amazing dogs. In this inspiring true story, our best friends are also real‐life superheroes. Journey around the globe to meet remarkable dogs who save lives and discover the powerful bond they share with their human partners. Follow Halo, a rookie puppy training to join one of the most elite disaster response teams in America. Meet Henry, an avalanche rescue expert in the mountains of British Columbia; Reef, a Newfoundland lifeguard with the Italian coastguard; Ricochet, a Californian surf legend helping people with special needs; and the Bloodhound brothers, Tipper and Tony, who are leading the fight to save endangered species in Africa. As we discover the incredible abilities of dogs and the astonishing science behind their superpowers, we'll never look at our best friends the same way again!
Presenting sponsor:
Archie & Viola Meinerz Family Foundation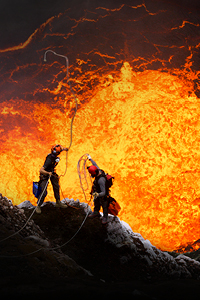 Earth is a planet born of fire. For billions of years, volcanoes have helped create the world we know.  With over 500 active volcanoes, the Earth is bursting at the seams with these forces of mass construction. The story of volcanoes is the story of the planet's creation, and the story of us.
With intrepid explorer Carsten Peter, dodge boulders at the edge of an active volcano in Indonesia, descend to a lava lake in Vanuatu, and visit the incredible mineral deposit fields in Ethiopia. Travel across the globe to see the archaeological ghost town of Pompeii and witness the devastating effects of the recent Kilauea eruption in Hawaii. Audiences will be on the edge of their seats as they discover molten worlds and exploding craters in this adrenaline-filled, immersive experience!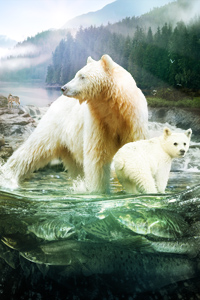 From the outside world, the Great Bear Rainforest is a sanctuary to a stunning diversity of wildlife, including the fabled all-white Spirit Bear — the rarest bear on Earth — and the indigenous First Nations people, who have provided stewardship of the forest for millennia. It is the largest temperate coastal rainforest in the world and has remained relatively unchanged for more than 10,000 years. Great Bear Rainforest celebrates a place that could only have thrived through sustained co-existence between humans, land and sea animals, and the natural environment. Narrated by Canadian actor Ryan Reynolds, Great Bear Rainforest is the first time this pristine, wildlife-rich world will be experienced in giant screen theaters.