We're exploring the idea of "living fossils" in May.
But what does that mean? Visit us or use our resources below to find out!
---
At the Museum
VISITOR ENGAGEMENTS
Join MPM educators on the Museum floors for in-person, drop-in programming on Thursdays and Fridays from 10:30 a.m. to 12:30 p.m. through the month of May.
Birds and Dinosaurs
Are birds and dinosaurs related? When you visit us in person, you'll learn about how the bodies of these animals hold fascinating clues to the present and past.

GET CURIOUS
During May, Museum visitors are encouraged to stop by our First Floor's Tree of Life display and "get curious" about "living fossils." What does it mean when species appear to last for millions of years without change?
The term "living fossil" is used for organisms that closely resemble their earlier ancestors over an unusually long time period. It isn't used by most scientists as it incorrectly implies these organisms have not changed over time and are identical to their ancient ancestors, and overlooks many less-apparent adaptations.
Prompt Question Answer
Because there is not an official scientific definition, it is hard to give specific examples of which organisms would be considered a living fossil. Ginkgo biloba, a tree on the left side of the display with unusual flat, fan-shaped leaves, is a species of tree still living today that looks similar to fossils of ginkgos that were alive at the time of the dinosaur. Ferns are another example of a plant species alive today that resemble ancient ferns from tens of millions of years ago.
Alligators, crocodiles, and caimans are sometimes used as animal examples of living fossils. Crocodilians started appearing about 95 million years ago in the Cretaceous period. Ancient crocodilians were much larger than their distant relatives today, but their outward appearances look similar. Although they are not in the display, horseshoe crabs are another popular example of a living fossil because the species today closely resemble those alive 480 million years ago.
In general, species survive over long periods of time because of the diversity among the individuals that make up the species.  As the prehistoric environment changed, the ancestors of these living fossils were the individuals most well adapted to the conditions at the time when they lived. This allowed them to survive and pass on their genes to the next generation, up to the individuals we see today. Many scientists agree we are currently living through a mass extinction period caused, in large part, by human impacts on habitats and climate. We don't know which species will survive this mass extinction event, but those with the individuals who are best adapted to the ways people continue to change the Earth might become the living fossils of the future.
---
At Home
FAMILY RESOURCES
MPL Booklist
Want to learn more about this month's topic? Milwaukee Public Library has put together a list of recommended reading for both children and adults.
---
Special Events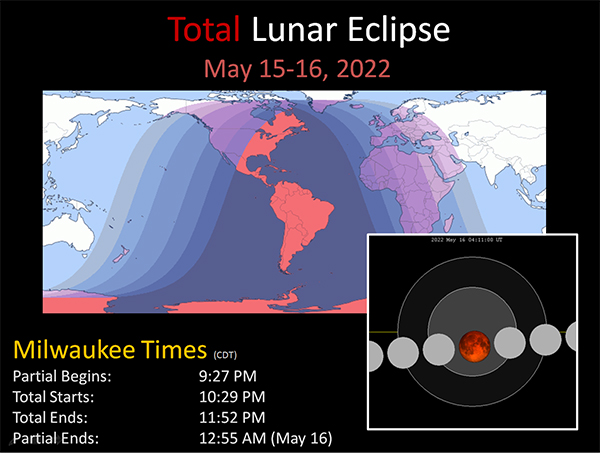 TOTAL LUNAR ECLIPSE
Sunday, May 15, 9:00 p.m. - Midnight
See the total lunar eclipse through a telescope! The Daniel M. Soref Planetarium will have an outdoor setup on Wells Street by the Green Clock (no Museum entry permitted). Partial eclipse begins at 9:27 p.m.; totality at 10:29 p.m. Click the image on the left to learn more.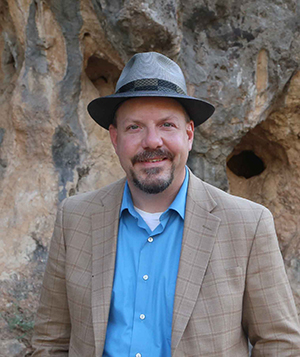 SCIENCE ON TAP
Thursday, May 19
6:00 p.m. social hour, 7:00 p.m. lecture
Meet Professor John Hawks, an intrepid cave explorer whose mission it is to find fossil evidence of human origins in some of the most remote and challenging places! Event guests will be taken virtually into a cave to see the remains of a fascinating species. Free to members!