A world-class team has been assembled to design and construct the Future Museum.
Unique to this particular project, the full team has been collaborating since the beginning, building on the ideas and expertise of each team member and each firm. The team kicked off the project with a tour of Wisconsin, which proved to be instrumental to grounding the project in the natural wonders and diverse cultures found across the state.
---
Architecture Team

Ennead Architects is an internationally-acclaimed, New York-based studio with offices in New York City and Shanghai. Renowned for its innovative educational, cultural, scientific, and civic building designs that authentically express the progressive missions of their institutions and enhance the vitality of the public realm, Ennead is a leader in the design world. They are recipients of the prestigious Smithsonian Institution-Cooper Hewitt National Design Award, the AIA NY Medal of Honor, and the National AIA Firm Award as well as numerous design awards for individual buildings.
Since their founding in Milwaukee in 1908, Kahler Slater has been trusted to deliver some of Wisconsin's most transformative projects including the Milwaukee Art Museum Calatrava addition, Milwaukee Symphony Orchestra's Bradley Symphony Center, UW-Madison's Kohl Center, and the Wisconsin State Capitol renovation.

GGN is a landscape architecture firm based in Seattle with backgrounds in landscape design, architecture, art, engineering, and ecology. GGN offers extensive experience in designing high-use landscapes in complex, urban contexts. GGN is the recipient of the 2017 ASLA National Landscape Architecture Firm Award and the Smithsonian's Cooper Hewitt National Design Award for Landscape Architecture in 2011. The firm's project awards include ASLA National Awards of Excellence, ASLA and AIA Honor Awards for Design, Tucker Design Awards, Society for Campus and University Planning Awards, and Great Places Awards from the Environmental Design Research Association.
---
Exhibition Design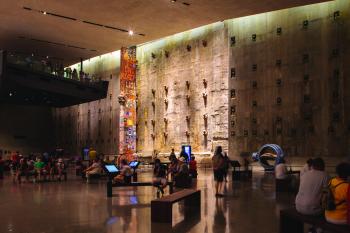 Thinc Design is a leading design firm serving clients in North America, Asia, Africa, and Europe, which will be working with the Milwaukee Public Museum. For more than 25 years, Thinc has designed projects for a wide range of museums, science centers, aquariums, zoos, theme parks, corporations, and governments, including Expo 2020 Dubai, the Seattle Aquarium, the Smithsonian Institution, the National September 11 Memorial Museum, and the California Academy of Sciences.
---
Construction Management

Mortenson will oversee construction of the new building, using their experience in constructing complex venues to bring the vision of the community, MPM leadership, and the aforementioned creative teams to life. Mortenson has teamed with ALLCON, a local, Hispanic, woman-owned general contracting firm on the project.
---