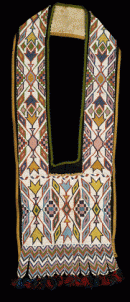 Tribe :
Winnebago/Ho-Chunk
Region :
Great Lakes Area (Wisconsin)
Material :
Glass beads, cotton cloth, silk ribbon, wool
The bag has a loomed geometric design in white, blue pink, green, yellow, orange, and black. It has green and brown silk appliqué on the edges with beaded tabs that end in red and blue yarn tassels.  
Source :
Donated by Charles H. Laflin of New Berlin, WI. Collected by John Laflin, the donor.