We invite you to experience the most awesome dramatic sky sight – a total solar eclipse!
The Milwaukee Public Museum will take a five-day, four-night total solar eclipse trip to San Antonio, Texas from April 5 to April 9, 2024.
The apex of this southern excursion will be nearly four minutes and 30 seconds of totality on Monday, April 8, 2024. Join us as we embrace the Moon's shadow and gaze at a stunning, gorgeous, and ghostly Sun! We will have telescopes, viewing glasses, and fun projected observing tools available. We will do all we can to make this rare sky sight the best experience possible. 
We will also enjoy several Texas attractions: A San Antonio River Cruise, a visit to one of America's top underground caves, and a tour of the Alamo. Plus, a planetarium pizza party at the Scobee Education Center!
Personal transportation to and from San Antonio is on your own. However, feel free to speak to our travel agent if you would like to enhance your trip by booking additional adventures or extending your trip.
We hope you will join us on this exciting eclipse adventure! It all promises to be the trip of a lifetime. Sign up soon—this trip is sure to sell fast!
---
FRIDAY, APRIL 5: San Antonio River Cruise & Welcome Eclipse Dinner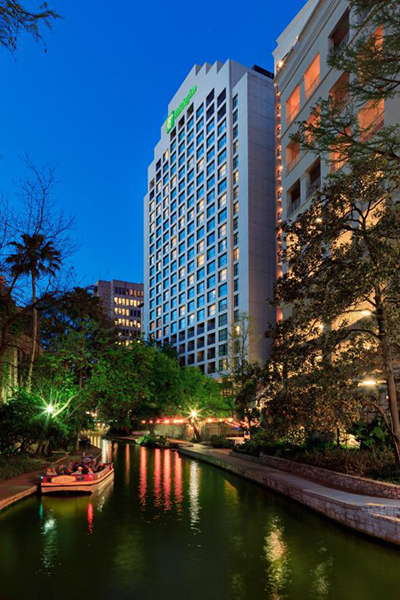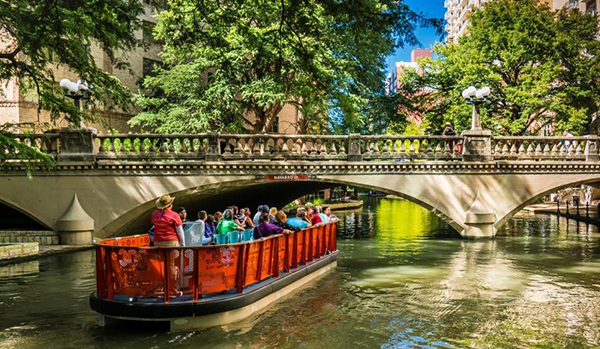 Meet late afternoon at the Holiday Inn San Antonio—Riverwalk. After check-in, you and your fellow eclipse travelers will take a fun river cruise. Then it's back to the hotel for a reception and Mexican buffet dinner. After passing out some cool gifts, we will preview the entire trip and take a closer look at the impending eclipse!
---
SATURDAY, APRIL 6: Natural Bridge Caverns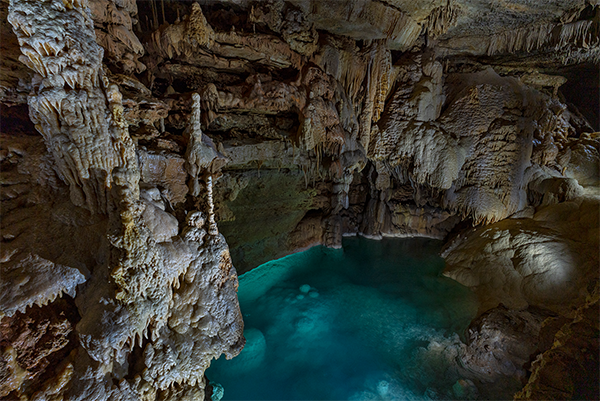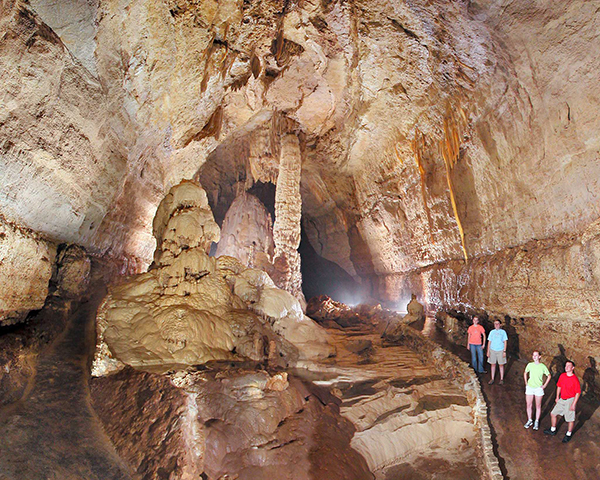 Explore Natural Bridge Caverns! This is one of America's top cavern sites. We will take a guided tour through many huge underground chambers. We leave for this natural wonder at 9:00 a.m. and return by 4:00 p.m. Lunch will be provided; dinner is on your own that night. Check out one of the many Riverwalk restaurants!
---
SUNDAY, APRIL 7: The Alamo & Pizza at the Planetarium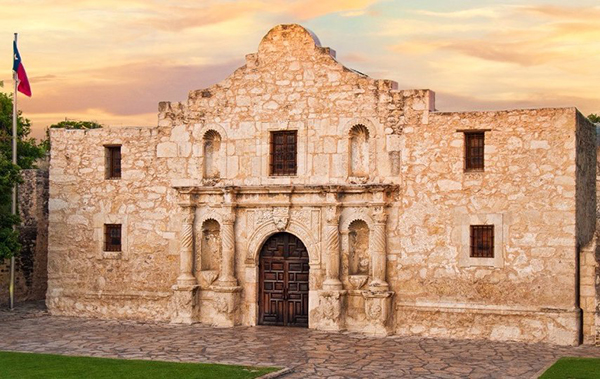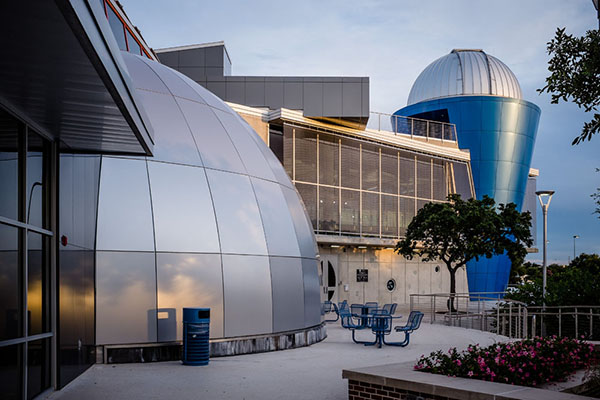 Witness the Alamo! We will walk only a few blocks from our hotel to visit this historical site that has been captivating people for generations. There will be a one-hour private guided tour with plenty of time to enjoy the site on your own.
Lunch and the afternoon are free time for you. At 5:00 p.m., we will gather at the hotel and head over to the Scobee Educational Center to visit their planetarium. We'll also enjoy a pizza buffet, preview the upcoming eclipse, and do some stargazing!
---
MONDAY, APRIL 8: Eclipse Day!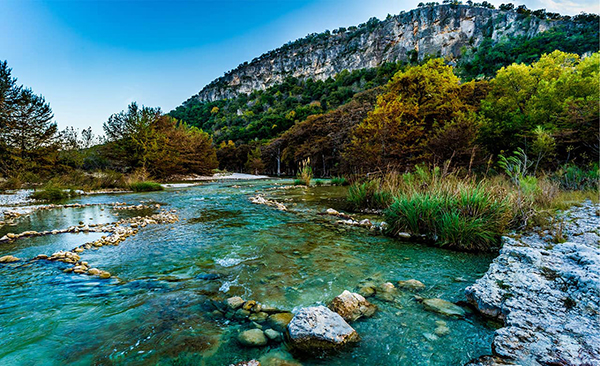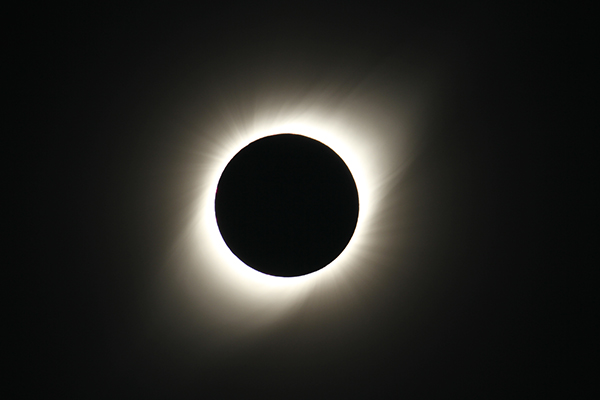 After an early breakfast, we will board our bus at 8:00 a.m. to head 90 miles west of San Antonio to the Hill Country Area. Our first choice to watch the eclipse will be Garner State Park—very near the centerline of the eclipse. Clear skies permitting, totality will last four minutes and 26 seconds. The entire eclipse lasts almost two hours and 40 minutes. Box lunches will be provided at the site.
Times for the eclipse are below:
Partial Eclipse starts: 12:13:01 p.m.
Total Eclipse starts: 1:30:19 p.m.
Total Eclipse starts: 1:34:45 p.m.
Partial Eclipse starts: 2:53:54 p.m.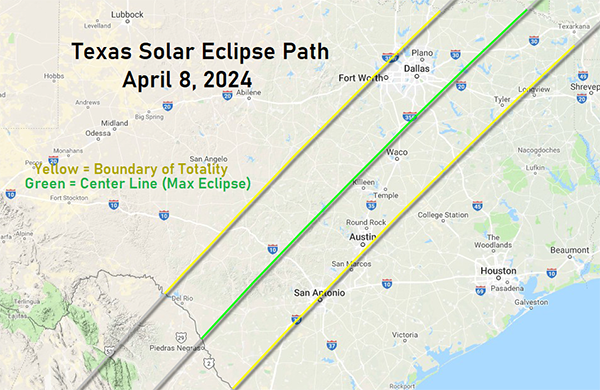 If skies are predicted to be cloudy at the park, there are two other destinations we will target which might hopefully be clear. 
We plan to be back at the hotel by 6:00 p.m. for an eclipse celebration dinner at a nearby restaurant.
---
TUESDAY, APRIL 9: Heading Home or Travel Some More
After breakfast, we will say our goodbyes in the hotel lobby and wish you safe travels home—or on your extended stay in Texas—or wherever you're off to next.
 
And remember, it's never too early to start planning your next eclipse experience!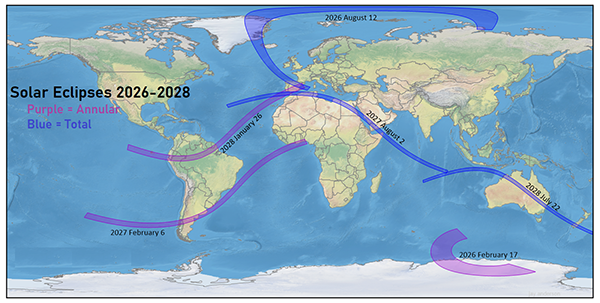 ---
WHAT'S INCLUDED
Overnight hotel stay for four nights in San Antonio, TX
Selected meals
All ground transportation in Texas
Admission entry fees to tour stops
Eclipse glasses and access to other safe-viewing equipment
MPM eclipse shirt and bag
WHAT'S NOT INCLUDED
Transportation costs to and from hotel in San Antonio, TX
Personal trip and flight insurance (STRONGLY RECOMMENDED) 
We use Travel Guard
Incidentals and personal items
Frequently Asked Questions
 
WHAT DO I NEED TO KNOW FOR TRAVEL?
Because of the nature of this trip (walking, caves, stairs, etc.), guests must be in good physical condition and able to walk at least one mile on uneven terrain.
Please check in with your personal physician about recommended vaccines (Typhoid, Hepatitis, etc.) for travel to Texas.
For trip extensions, the Museum will have a selected travel agent to help you. 
CAN I ATTEND/PAY FOR JUST A PART OF THIS TRIP?
We're sorry, we are not able to offer any discounts for anyone not participating in the entire trip.
WHAT DO I PACK?
It will be springtime in southern Texas with warm temperatures. The average high and low temperatures for early April are 80 and 60 degrees Fahrenheit. We'll be doing a good deal of exploring, so please pack comfortable walking shoes and clothing appropriate for the climate. A week before the trip, the weather websites will have better information on the forecast.
WHO IS OUR MPM TRIP LEADER?
Robert Bonadurer, Director at the Daniel M. Soref Planetarium and Dome Theater at the Milwaukee Public Museum, has taught over 900,000 people—young and young-at-heart—the wonders of the universe. He has produced and directed more than 25 astronomy shows and films for national and international distribution. One of his shows has won an international scriptwriting award. Mr. Bonadurer has experienced totality five times! He has led solar eclipse chasers to Aruba, Zambia, Greece, Italy, Illinois (Metropolis), and Chile. Mr. Bonadurer is a native of La Crosse, WI and has served as directors of the Minneapolis Planetarium and University of Texas at Arlington. He is also the past President of the Great Lakes Planetarium Association.
DATE AND TIME
April 5 - April 9, 2024
LOCATION
San Antonio, TX
COST AND RESERVATION
$1,090 (double hotel occupancy)
$1,490 (single hotel occupancy)

For reservations, please call Kristine May at 414-278-2757 or mayk@mpm.edu.
A deposit of 50% will be collected at the time of your reservation. The balance will be due on October 1, 2023.
CANCELLATION POLICIES
Before May 1, 2023: 30% of total is charged
From May 1 to October 1, 2023: 55% of total is charged
From October 2 to February 1, 2024: 85% of total is charged
No refunds after February 1, 2024
Reservations and Questions
To receive a registration form or to reserve your eclipse adventure directly, call Kristine May at the Milwaukee Public Museum at 414-278-2757. Please make have the following things ready:
Date of birth
Current address
Credit card
---
For all trip itinerary and eclipse questions, please call Planetarium Director, Bob Bonadurer at 414-278-6985 or bonadurer@mpm.edu.