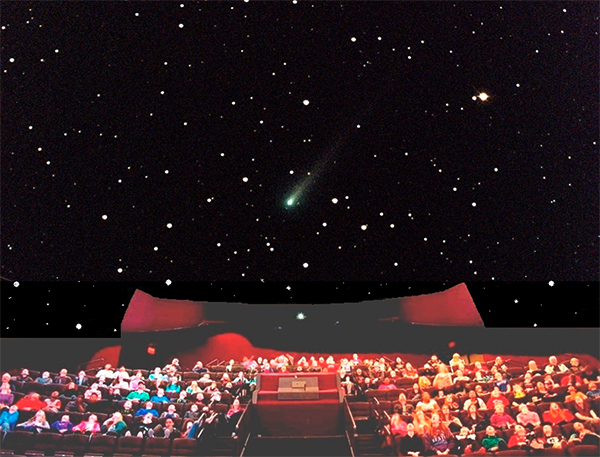 Enjoy a unique visual experience at the Daniel M. Soref Planetarium and Dome Theater!
Take in an awe-inspiring 23-minute Planetarium program or a magnificent 45-minute giant screen film. A free Planetarium program is ALWAYS included with general admission or membership!
For additional information, such as showtimes and prices, see what's playing.
---
About the Dome Theater
With crystal clear images on a six-story-tall screen and wraparound digital surround sound, watching a show in the Dome Theater transports you into the center of the action -- be it climbing the daunting heights of Everest, cruising the skies on the back of a pterosaur, or experiencing the weightlessness of space.
---
Planetarium Programs
MPM's Planetarium is Wisconsin's largest and most modern, and is the first Planetarium in the world to debut a Digistar 6 computer projection system that fills the entire Dome Theater with stunning 3D animations, creating an immersive astronomy experience. You'll see breathtaking vistas of the night sky, planets, the Milky Way, and distant wonders of the universe.