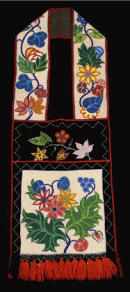 Region :
Lac Court Oreilles Reservation, WI
Material :
Glass beads, cotton textile, velvet, cotton textile, velvet, cotton thread, wool yarn
This bag has a fully beaded pouch and shoulder strap. The black velvet along the sides and pocket is beaded with a zigzag design. The large floral designs are similar on both the pocket and straps. The lower edge of the bag ends in red yarn tassels with beaded bugle beads.
Source :
Collected by Robert Ritzenthaler, MPM Scientific Aid in Anthropology, 1938-1943 (later MPM Curator of Anthropology 1943-1972) on a joint expedition with Columbia University.