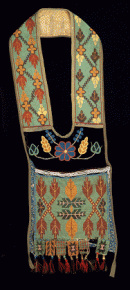 Region :
Great Lakes Area
Material :
Glass beads, cotton textile, velvet, wool yarn, cotton thread.
This pocketless bag has a square loom beaded bottom panel with tabs. The bottoms of the tabs end in large glass beads with red and black yarn tassels. It exhibits a white-beaded otter-tail design at the top of the panel; the black velvet portion above this design has a floral motif. The shoulder strap is loom beaded.
Source :
Donated by Mrs. Richard Herzfeld and Friends of the Museum. Collected by James Howard, anthropologist and collector, in 1946.