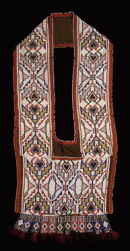 Region :
Great Lakes region (no area specified)
Material :
Glass beads, wool cloth, cotton cloth, wool yarn, cotton thread
This bag, with a small pocket, has beaded tabs and red/blue yarn tassels. The bag has a red cotton cloth trim with a yellow beaded edge. The bag exhibits geometric designs on brown wool cloth (appliqué). Bead colors present on this bag: white, blues, reds, yellow, black, and green.
Source :
Donated by Mrs. Odelia Abel of the Indian Trading Post, Tomahawk, WI; originally collected by the donor