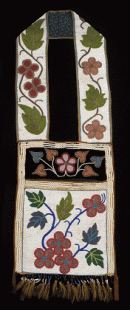 Region :
Leech Lake Reservation, Minnesota
Material :
Glass beads, cotton textile, wool textile, velvet, wool yarn, cotton thread.
This bag has fully beaded straps and pouch with a leaf and flower design. The horizontal panel is beaded directly onto the black velvet backing. A white otter-tail motif borders the main pouch and horizontal panel.
Source :
Donated by Mrs. K. Bruckhaus of Tyler, TX.