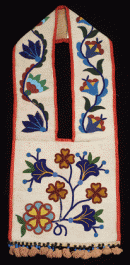 Material :
Glass beads, cotton textile, polyester textile
This bag, which has no pocket, is fully beaded with a floral pattern against a white background. Trimmed with thick red polyester fabric, the bag has large black and blue bead dangles with salmon colored yarn tassels. It is lined with cotton calico.
Source :
Donated by Mrs. Wallace B. Behnke of Milwaukee, WI. Collected by Sidney Helliwell (father of donor) in 1906.