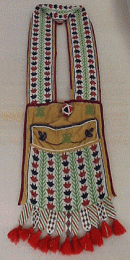 Region :
Woodland (Wisconsin?)
Material :
Glass beads,cotton cloth, wool yarn
This bag has a beaded leaf and vine motif on a tan cloth background. The designs are similar on both strap and pouch, with a tab fringe along the bottom ending with red yarn tassels. A beaded ball hangs from the center of the bag.
Source :
Donated by Rebecca Schwartz of Milwaukee, WI. Collected by Reva Previant, the donor.