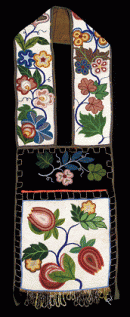 Region :
Great Lakes Area, North Dakota style
Material :
Glass beads, cotton textile, velvet textile, ribbon, cotton thread.
This bag has a fully beaded strap with dense floral designs. Backed with black velvet, the pouch is beaded in a floral motif against a white background. The horizontal panel is beaded directly onto the black velvet. Olive green piping edges the bag, and the tassels are beaded loops.
Source :
Donated by Mrs. Richard Herzfeld and Friends of the Museum. Collected by James Howard, anthropologist and collector, in 1965 in Midland, South Dakota.