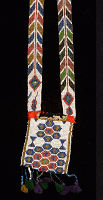 Region :
Western Great Lakes region
Material :
Glass beads, cotton cloth, ribbon, cotton thread
This is a small beaded bag backed with red cloth, red ribbon edging and black lining with green, orange, yellow, blue, white, black, and red beads. The tassels are made with larger beads ending in small pompoms.
Source :
Donated by Mrs. Samuel Meyer of Milwaukee, WI; collected by David Karger.