Current collection counts are based on inventories of prime collections (firearms, business machines, textiles, etc.), high number counts for individual catalogue series, and estimates for items catalogued in the Anthropology ledgers. Based on these figures, the history collections total over 266,000 entries, roughly 38,000 Nunnemacher, 55,000 History, 31,000 Ethnology, 1,500 Archaeology, 41,000 Numismatic, and more than 100,000 Philatelic.
Dietz Typewriter Collection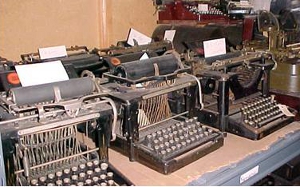 This is one of the single most important collections held by the History department. The core of this collection of typewriters and related papers was assembled by Carl P. Dietz and donated to the Museum in 1934 as a memorial in honor of Christopher Latham Sholes, widely held to be the Milwaukee inventor of the earliest practical commercially produced "writing machine." The collection is likely the largest and most complete overall assemblage in the world, currently numbering nearly 900 actual typewriters, plus an additional 150-200 other business machines (calculators, etc.), 4,000 pieces of trade literature, 1,200 items of related ephemera, and the 1,500-item James Densmore documents relating to Sholes' original business activities. A museum catalogue by George Herrl, highlighting about 300 of the machines, was published in 1965.
Nunnemacher Arms Collection
This is another of the Museum's premier collections. Rudolph Nunnemacher's original collection was heavily weighted toward firearms and edged weapons. In 1915, the Museum acquired the significant Lawrence collection. The firearms have grown to nearly 3,000 specimens, ranking it among the top half-dozen publicly held collections in America. It is a diverse collection in origin and type, including handguns, shoulder arms, and crew-serviced firearms, as well as an excellent collection of airguns. There is a good balance between civilian and martial arms, the latter further augmented by edged weapons (swords, knives, spears, etc., some in Anthropology) and also military uniforms, insignia, and accoutrements ranging from the War of 1812 to Desert Storm (1991). A major two-volume catalogue of the firearms written by John Metschl was published by the Museum in 1928.
Nunnemacher Decorative Arts Collection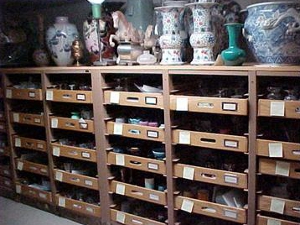 A second major interest and core collecting area for Rudolph Nunnemacher was decorative arts. Our current holdings are estimated to be in excess of 35,000 specimens. Decorative glass is the single largest category, with a wide range of materials, primarily European and American from the 19th and early-20th centuries, including Depression glass. The collection has strengths in pressed glass and overlay glass but is quite representative of numerous techniques, styles, and manufacturers, with particular emphasis on American varieties. A small collection of modern studio glass was acquired in the '80s/'90s, representing Littleton, Manners, Chihuly, Stankard, etc. Second to glass is the ceramics, china, and stoneware collection, again with a wide range of materials, including early American art pottery. Smaller collections of silver/enamel, ivory, jade/stone, and jewelry, many of Asian origin, round out the decorative arts materials.
Uihlein Postage Stamp Collection
William Uihlein's extensive collection of worldwide postage stamps came to the Museum in 1928. In 1985, it was augmented and updated by the collection of British Commonwealth stamps acquired by his niece, Diane Markham. Other collections acquired over the years include the Pohl, Briscoe, and Usinger collections. Originally mounted in cumbersome pull-out panel cabinets for public viewing, the stamps have been a research collection since the 1970s. Having been removed from the glass panels, the stamps have been undergoing remounting by dedicated and knowledgeable volunteers in correct sleeves and folders since the early '80s. The collection is well in excess of 100,000 specimens and remounting is about 75% completed.
Vehicles
We hold two antique automobiles, the recently restored early 1890s Schloemer motor wagon, which is possibly the earliest internal-combustion auto in the country, certainly in Wisconsin, and the Feind mobile steamer from 1900. We also have a 1913 Harley-Davidson cycle, built in the 10th year of production of the Milwaukee-based firm. We hope to include these all in a permanent restructuring of the entrance to Streets of Old Milwaukee. Additionally, we have the Dietz Cycle collection, consisting of a wide array of bicycles, unicycles, tricycles, etc. Unfortunately, many of these were damaged by a flood in the old building years ago and are in dire need of restoration, a project which may not prove feasible for MPM in the near future.
Clothing & Textiles
American clothing and textiles, some 20,000 pieces, includes everyday wear to specialty items like prominent wedding gowns, as well as table linens, quilts, and coverlets. Significant collections of shoes and hats also exist. The majority date from the mid-1800s through mid-1900s with some earlier and later specimens. Women's garments are more fully represented. European and Asian clothing, primarily traditional/ethnic, as well as religious vestments, are represented by several hundred additional specimens.
Domestic Life & Folk Arts
This is a large and diverse category which runs the gamut from baby buggies and bicycles to farm equipment, household items, and tools dating from the colonial era to the mid-20th century, European crafts from the late 19th/early 20th centuries, and established Milwaukee folk art, such as the Kashube carvings of John Mickowski. It covers collections of bottles, books, razors/mugs, musical instruments, pipes/smoking materials, tins, boxes, baskets, lighting fixtures, TV/radio, trunks, medical/pharmaceutical materials, pots/pans, food-related materials, etc. We also have a small flag collection and varied furniture holdings, ranging from some fine late colonial pieces to rather mundane 20th-century material. This is the collection most in need of review as we develop plans for the CD storage area renovation.
Horology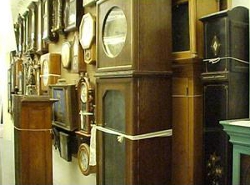 The collection of clocks, watches and related tools, furniture, and papers, was the purview of an earlier curator, but has not been an area of strong interest since 1985. Still, the core of an important collection exists.
Toys/Dolls/Sports
We have the most important publicly held collection of Milwaukee WPA dolls anywhere. We also hold representative late 19th/early 20th century toy collections, including toy trains. In the 1980s, we received the DeFlores collection of Disney toys/memorabilia, nearly a thousand items covering the '30s-'80s. Sports memorabilia is limited, but includes numerous early ice skates and Milwaukee Bucks championship balls from the 1970s.
Mediterranean Archaeology
These collections represent primarily Egypt, Mesopotamia, Greece, and Rome and number under 2,000 pieces, including pottery, stone, and assorted replicas, plus four human mummies. Classical coins are in the Numismatics area and much Greek and Roman material is housed in the Anthropology area. Excavations conducted by MPM at Tell Hadidi, Syria from 1974-8 resulted in thousands of archaeological materials, but the vast majority form a research collection. Only whole, restored, or exhibited materials, just a few hundred, have been catalogued as MPM specimens. We hold a collection of ancient Iranian ceramics and a small selection of Islamic and medieval materials.
Miscellaneous Collections
Statuary, much of it relating to Eastern religions (Buddhism) constitutes a small but interesting collection. We have a number of paintings as well as numerous prints, European, Asian, American, and local, but few of exceptional quality. In addition, our total of documents, postcards, and paper ephemera is in the thousands. Our 41,000-item Numismatics collection includes everything from ancient coins to modern currency.