The Lacandon Maya, Hach Winik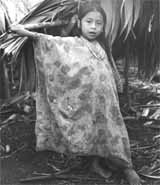 Lacandon Indian, Chiapas, Mexico
The Lacandon are an indigenous Maya-speaking people, numbering between 300 and 500 individuals, who live in the Mexican state of Chiapas. They have three principle communities: two northern villages at Najá and Mensabäk, and a southern village at Lacanhá Chan Sayab. They speak a dialect of Yucatec Maya and call themselves the Hach Winik, which means "true people." In general, their livelihood relies on slash-and-burn agriculture, hunting and gathering in the forest, wage labor, and selling crafts to tourists. Remarkably, the Lacandon Maya are one of the only groups of Maya people who were never completely colonized by the Spanish and until very recently retained their indigenous religion (Palka 2005:46-48).
Geography
The sub-tropical forests of Chiapas are found in the southern lowlands of the region. Here, the elevation ranges from 3,000 feet to only a few hundred feet above sea level. There are many rivers, streams, swamps, and lakes throughout the region. The lush forests are known for their mahogany, cedar, and pine trees as well as a rich variety of plant and animal life, and the climate is usually warm and humid, with rain throughout the year and significant rainfall from June to December (Palka 2005:42-44).
MPM Collection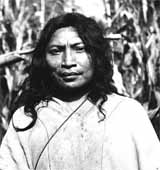 Lacandon Indian, Chiapas, Mexico
The Milwaukee Public Museum has one of the premier collections of Lacandon material culture in the United States. The collection includes examples of their clothing and jewelry, religious items, musical instruments, utilitarian items, and many photographs.
Links
There are several websites and books that may be useful for anyone interested in learning more about the Lacandon.
Book Title: The Unconquered Lacandon Maya; Ethnohistory and Archaeology of Indigenous Culture Change
Author: Joel W. Palka
Published in 2005 by the University Press of Florida.
http://www.upf.com/book.asp?id=PALKAS05
Book Title: Watching Lacandon Maya Lives
Author: R. Jon McGee
Published in 2002 by Allyn and Bacon, Boston, MA
Book Title: Hach Winik: The Lacandon Maya of Chiapas, Southern Mexico.
Author: Didier Boremanse
Published in 1998 by the Institute for Mesoamerican Studies, Monograph 11, University of Albany, New York
Webpage developed by Elizabeth Handwerk, UW-Milwaukee Anthropology and Museum Studies Program graduate student, 2006.
Lifeways photos used by permission of Peter Thornquist.