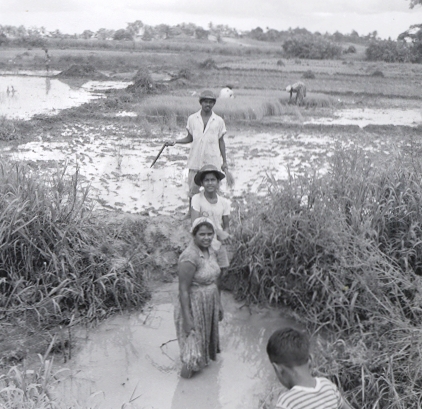 Harvesting in the rice fields. (MPM Neg. #:10835A)
In 1957, the Milwaukee Public Museum sponsored anthropologist Arthur Niehoff and his wife, Juanita, to conduct a sustained field research project focused on Indian communities in the British colony of Trinidad and Tobago.  At the end of the Niehoffs' field season, the Milwaukee Public Museum acquired one of the United States' premier collections of Indo-Trinidadian material culture, comprising 100 objects from the Indian community of Penal in Trinidad's Oropuche Lagoon. With artifacts ranging from brass vessels of ritual importance, traditional and vernacular musical instruments, kitchen items, tools, clothing, and decorative objects, the collection endeavors to represent a cross-section of the daily lives of Indo-Trinidadians.  The Niehoffs' experience also culminated in a book, East Indians in the West Indies, which stands as one of the first comprehensive ethnologies of Trinidadian Indian populations. 
Trinidad and Tobago, a former British Imperial Colony, is situated in the full tropics a mere 15 miles from the northeast coast of Venezuela.  The islands' historic importance as a center for the cultivation of sugar and cocoa resulted in the importation of vast numbers of foreign workers. With the early eradication of native populations to either genocide or foreign disease, African slaves, and later Chinese and Indian indentured laborers, were imported to appease European appetites for sugar and chocolate. While the cocoa and sugar cane industries would lose their global edge by the 1930s, the people imported to labor on vast plantation estates would eventually call Trinidad and Tobago their home, develop communities, and create a uniquely plural vernacular culture.
Trinidad has the highest population of the two islands and, as the nation's political, cultural, and economic center, has been the primary focus of recent ethnographic research.[1] The island presents an interesting case study on issues of imperialism and post-colonialism, globalization, race, ethnicity, diaspora, cultural syncretism, and religious identity.  On an island about 65 miles long and 48 miles wide live people of Indigenous heritage, African ancestry (Creoles), and white European descent, as well as Chinese, Syrians, and Indians.  Trinidad, to quote anthropologist Viranjini Munasinghe (2001) is variously known as a "callaloo" or a "tossed salad" - similar to the United State's representation of its multicultural population as either a "melting pot" or "mixed salad."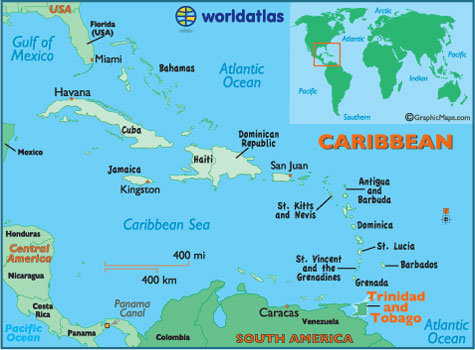 Map of the Caribbean Islands. Trinidad and Tobago are located off of the coast of Venezuela. (Courtesy of worldatlas.com)
Webpage developed by Will Mulford, Anthropology Department intern, 2012
Questions? Contact Dawn Scher Thomae
---
[1] Formerly two separate colonies, Trinidad and Tobago became a singular entity in 1888, administered from the Trinidadian capital of Port-of-Spain.  In 1962, the two became an independent sovereign republic. Tobago, the smaller of the two islands and lacking the same oil and natural gas reserves found on the Trinidadian landmass, has a tourist industry based economy, and is renowned for its natural beauty.