Scandinavia is a region in North Europe made up of Finland, Sweden, Norway, and Denmark.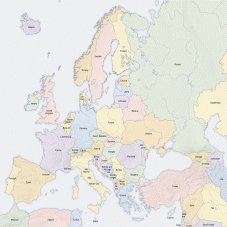 The Scandinavian archaeology collection at the Milwaukee Public Museum is predominantly from Denmark. During the tenth to the thirteenth centuries, these three countries separated into three kingdoms. One area of Denmark, called Jütland, will be mentioned frequently because it is the origin of several artifacts of the collection.
The geography and climate of Scandinavia varies greatly. In the north, the climate is sub-arctic while southern Scandinavia experiences more humid continental climates. The most predominant geographic features are the Norwegian fjords, the flat lands of Denmark, and the island groups of Sweden.
The languages spoken in Scandinavia are very closely related, considered part of the North Germanic Language group. Swedish, Norwegian, and Danish evolved from the Old Norse languages spoken from the Viking Age to about 1300. Before then, older Proto-Norse language was spoken.
 
The Collection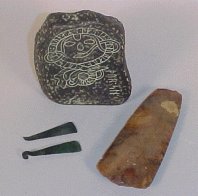 The Scandinavian archaeological collection at the Milwaukee Public Museum consists of lithic (stone) tools and bronze items from prehistoric periods. The collection is also comprised of replicas of Viking Age rune stones largely associated with the very early Medieval Period of Scandinavia.
The lithics collection contains mainly flint axes and tools with a few examples made of granite. There are twenty five pieces, most of which originate from Denmark. The metal collection consists of eight bronze objects, primarily small personal items, all of which also originate from Denmark.
The rune stone replica collection was donated to the museum in 1901. They represent fairly well known rune stones from all over Denmark, Sweden, and Norway. The ten replicas are smaller three-dimensional displays of the originals. Included in the collection are the famous Jelling rune stones of Denmark.
 
Collection Donors
Adolf Meinecke donated all of the rune stone replicas and bronze items, and part of the lithics collection. Born in Germany, Meinecke immigrated to Milwaukee in 1855 and became a wealthy manufacturer and importer of toys. He founded the Meinecke Toy Company that was located for many years at 125 East Wells Street. He became a board trustee for the Milwaukee Public Museum in 1885. Meinecke traveled to Scandinavia frequently and donated several items to the Museum, most of which are from Denmark.
Other donors of the Scandinavian collection include David B. Kienzli (items collected by William H. Vogel), the Museum of the American Indian (Heye Foundation), Mr. and Mrs. Neil Mikkelson, and Paul Scholz.
The Scandinavia webpages were produced by University of Wisconsin-Milwaukee Anthropology student Christina Mani.
Questions? Contact Dawn Scher Thomae