Introduction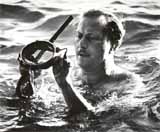 Dr. de Borhegyi emerging from the depths.
Former Milwaukee Public Museum director Dr. Stephan F. de Borhegyi was an avid scholar of all things Mesoamerican. In particular, he spent many years studying archaeological finds left by the ancient Maya in and around Lake Amatitlán, Guatemala. The Milwaukee Public Museum is one of the primary repositories for material found in and around the lake and also houses an extensive archives containing information on Borhegyi's excavations and collecting endeavors in the area.
Web page developed by Jeralyn Gasper, UW-Milwaukee Anthropology and Museum Studies Graduate student, 2006.
Questions? Contact Dawn Scher Thomae.