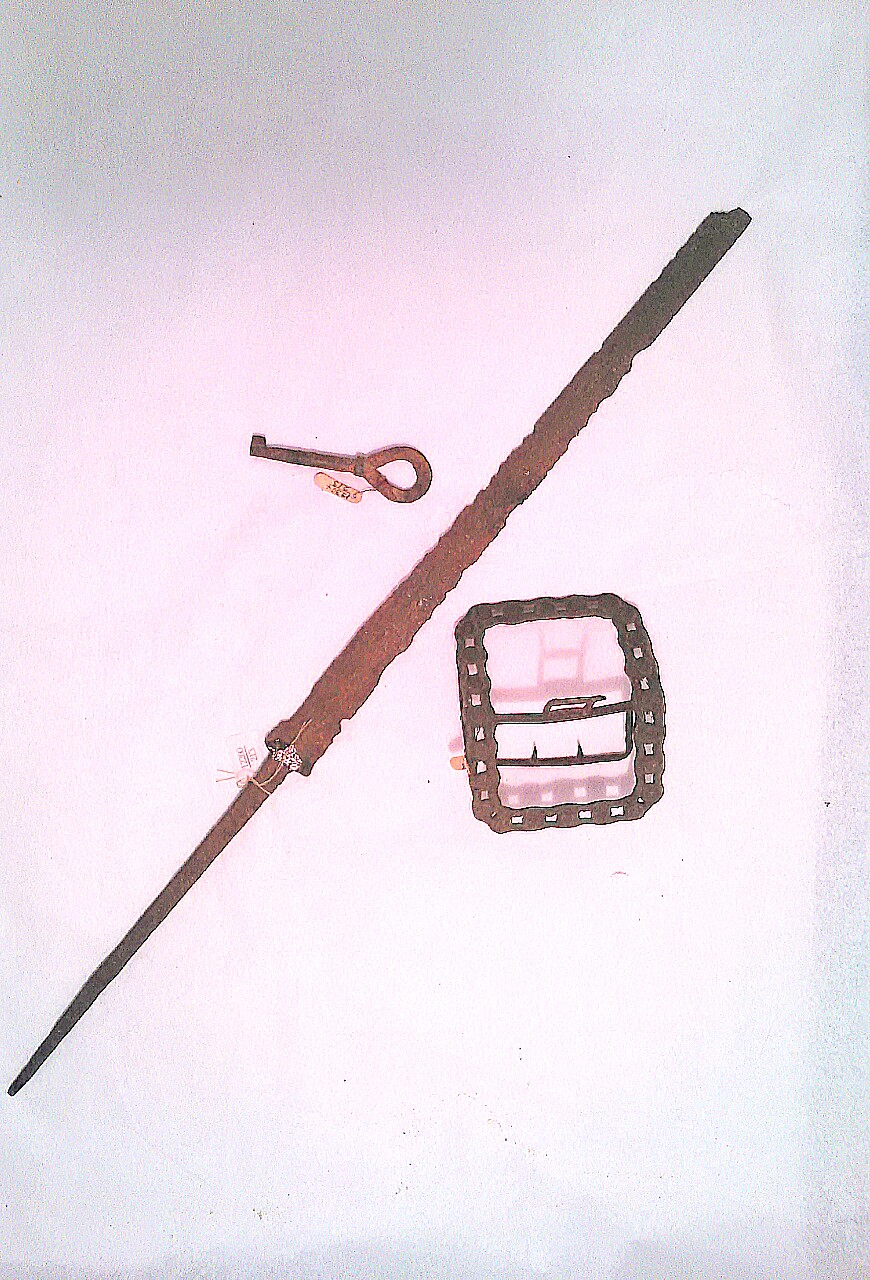 Figures are from left to right: Key - #A12304, Rapier - #A12360, Buckle - #A12308
The MPM Medieval German Archaeological Metal collection consists of 173 objects that were all collected in Germany in the late 19th century.
Although the objects are quite varied they share a common thread of utility and date between the 5th and 14th centuries C.E. 
The collection is comprised of 19 nails, 10 keys, six blades, one sword, one rapier, two knives, eight axe heads, three spearheads, five lance heads, and five spikes along with other miscellaneous metal objects, including belt buckles, spurs, and objects with unidentified uses. 
Most items in this collection are made of iron, but a few bronze pieces date to the early Middle Ages. Whether bronze or iron, the construction of all of the objects in this collection is similar throughout the Middle Ages, making dating the objects a challenge. The large number, condition, and the overall rarity of this collection in an American museum are unusual features, making this one of only a few examples in the United States. Milwaukee's early history is largely German and this collection adds an important historical dimension to German history before this immigrant group arrived in Wisconsin.
The Collector: William Frankfurth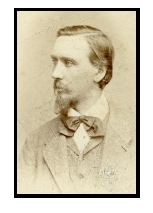 William Frankfurth - Historic Photo Collection at the Milwaukee Public Library.
The collector, William Frankfurth, was born in Gudensberg, Germany in 1829 and moved to Milwaukee, Wisconsin in 1849. A well-known and successful business owner, he was one of the founding members of the German-English Academy, the Milwaukee Public Library, and the Milwaukee Public Museum. In 1890, he traveled to Europe, where he visited archaeological sites in the Alps of Italy, Switzerland, and Austria as well as in his homeland. He personally discovered, excavated and documented many of the places where the objects in the collection were acquired. His premature death in Vienna, Austria in December 1891 resulted in the eventual donation of his collection to the MPM by his son Lorenz.
The medieval German archaeological metal material was obtained primarily from sites in Gudensberg, Lechfeld, Augsburg, and Köln, all of which Frankfurth is known to have visited. This collection comprises only a small percentage of the Frankfurth donation, which consists of thousands of archeological items from many time periods and countries in Europe. Frankfurth's premature death and the early date of the donation have made identifying find locations for the material in the collection a challenge. A handwritten record that was discovered in 2014 has yet to be transcribed or translated, so the locational information provided for the artifacts included in this Web site inventory should be considered provisional. It is possible that not all of the pieces are medieval and some may turn out not to be from Germany.
Webpage developed by MPM Anthropology Intern Amanda Graff, 2015
Questions? Contact Dawn Scher Thomae