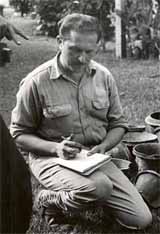 Figure 19. Dr. Stephan F. de Borhegyi recording artifacts on the shore of Lake Amatitlán.
Large Version
Dr. Stephan Francis de Borhegyi was born in Budapest, Hungary, in 1921. He attended college preparatory school in Debreceu, Hungary, then the Peter Pazmany University in Budapest. After a break in his education to enlist in the Hungarian army during World War II, Borhegyi earned a PhD, summa cum laude, in 1946. He immediately became involved in archaeology and museums, holding posts in the classical and Near Eastern Archaeology section at the Hungarian National Museum and teaching courses in the department of Archaeology and Anthropology at his alma mater.
Borhegyi first came the United States in 1948 through a postdoctoral fellowship by the Viking Fund. After spending the summer at the Point of Pines Archaeological Field School of the University of Arizona, he began his studies of Middle American archaeology and ethnology in Guatemala with the Carnegie Institution of Washington, D.C. Political unrest in Hungary prompted him to apply for U.S. citizenship, which was granted in 1955. While in Arizona, Borhegyi met his future wife, Suzanne Simms, whom he married in 1949, and they eventually had four children.
Through a series of fellowships, grants, and jobs, Borhegyi continued to study the ancient history and ethnology of Guatemala, helping to organize the Guatemala National Museum storage and install new exhibits at the Chichicastenango Museum and the Colonial Art Museum of Antigua, Guatemala.
In 1954, Borhegyi accepted the positions of director at the Stovall Museum and professor of anthropology at the University of Oklahoma, where he was actively involved in promoting the museum and anthropology, not just in Oklahoma, but around the country. In addition, he made yearly trips to Guatemala to teach summer classes at the University of San Carlos, where he first heard of and became involved in archaeological work at Lake Amatitlán.
In 1959, Borhegyi became the director of the Milwaukee Public Museum. The museum was planning the construction and exhibits for a new building, where it is located currently, and Borhegyi lead the efforts. Following in the footsteps of his predecessor, Borhegyi planned a new style of exhibit, now known as the "Milwaukee style," where visitors can step into the past by strolling through a reconstruction of The Streets of Old Milwaukee, and become immersed in the sights and sounds of the time being depicted. While at MPM, Borhegyi also saw the revitalization of the Friends of the Museum, a non-profit organization providing support for the museum and special benefits to museum members.
Unfortunately, Borhegyi was killed in a car accident in Milwaukee on September 26, 1969, one month before his 48th birthday.