Buy Tickets
By Phone - Call reservations at 414-319-4629 or 888-700-9069.
At the Museum - Tickets may be purchased at the Museum box office located in the concourse.
*Planetarium programs are FREE with general admission.
---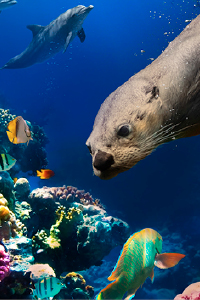 Take a global odyssey to discover the largest and least explored habitat on earth. From the coastal shallows to deeper, more mysterious worlds, hear the untold stories of the oceans' most astonishing creatures. Meet fascinating characters like the ingenious tusk fish that uses a tool to open its food. Find a cunning octopus who shields herself in an armoury of shells to hide from predators. Journey through the oceans to experience these extraordinary discoveries and uncover a spectacular world of life beneath the waves.
Showing August 1 - October 7, 2018
 
---
In this great Planetarium show, you'll go on an adventure with Big Bird into outer space to learn about the Sun, the Moon, and the constellations. Supported by PNC Bank
Showing at 9:30 a.m. every Saturday morning, and for groups by request.
---
Looking to explore way-out worlds? The blistering Sun? Mysterious moons? Crazy comets and amazing asteroids? Then join our gang of smart, wacky reporters and rambunctious planets in the Planetarium Channel's new extravaganza, The Solar System Show! We promise planet fun for everyone. Warning: Audience participation may be required.   For families of all ages. For school groups K through 4th.
Now showing June 16 - October 7, 2018
---
Travel across monumental glaciers and sweeping grasslands, rich in life—a Northern Hemisphere whose vast plains resembled the African Serengeti. Roam the mammoth steppe with baby Lyuba, a 40,000 year old female Woolly Mammoth calf recently exposed by the melting Siberian permafrost. Discover the story of Zed, one of the most complete Colombian Mammoth skeletons ever uncovered. Witness a time when the hunters became the hunted, where saber-tooths, dire wolves, and cave bears ruled untamed continents.
Now showing June 15 - October 7, 2018
 
---
Take a live tour of the current Wisconsin night sky in this 22-minute guided Planetarium program. 
Showing daily throughout the year.