Fox River Park
June 9-10, 2017
---
Property Description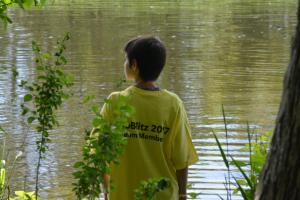 Fox River Park (262 acres) is part of the Waukesha County Park System and is located southwest of the city of Waukesha along the Fox River. Habitats include a variety of wetlands (riverine wetlands, ephemeral ponds, and wildlife scrapes), river, and a mature mixed-oak woodland.
Interesting Discoveries
State-threatened fish species: Northern Sunfish (Lepomis megalotis).

Three new county records:

Two daggar moth species (Acronicta spp.), known from northern MN;
Second-ever WI record: millipede species (Apheloria virginensis), and previously only collected once before from Milwaukee Co.

Very diverse insect community:

135+ Butterflies and moths (not including micromoths still in need of ID);
123+ Beetles including 5 firefly genera.

Very healthy forest community: Given that 163 homes border the park, it was encouraging to see a diverse understory with mixed-age trees.
---
General Results 
Click the button below to download a spreadsheet of the full results from this BioBlitz:
---
Partners
Host: Waukesha County Park System
Surveyors
Ben Goss Bird Club
Carroll University
Carthage College
Marian University
Marquette University
Milwaukee Public Museum
Purdue University
Retzer Nature Center
Schlitz Audubon
Southeast Regional Planning Commission
UW-Milwaukee
UW-Madison
UW-Oshkosh
UW-Parkside
UW-Stevens Point
UW-Waukesha
UW-Whitewater
Urban Ecology Center
Waukesha County Parks
WI DNR
WI Natural Resources Foundation
Educational Activities Partners
Milwaukee Public Museum
Retzer Nature Center
Riveredge Nature Center
---
Event Photos