We're open!
Please review our newest policies below to help plan your next visit to the Milwaukee Public Museum. The health and safety of our visitors and staff is our highest priority. 
Welcome back!
---
Visitor Policies

Timing is Everything
A timed ticket is required for entry for all visitors, including members. Tickets are limited to meet a reduced visitor capacity, so advanced online purchase is strongly recommended. On-site purchases must be made via debit/credit card; no cash will be accepted. 

Cover Up
For the safety of the community and our staff, a mask is required to be worn by all visitors ages three and older over both the nose and mouth, at all times and with no exceptions, per the City of Milwaukee ordinance. Visitors who have been asked more than twice to follow our mask policy will be asked to leave without refund. In addition, no food is allowed in MPM at this time; bottled water only. 
Learn more about how to wear a face mask here, and why they're important here.
 

Know Where to Go
All visitors* must enter through MPM's main entrance on Wells Street and during the 45-minute entry window indicated on their ticket. Please note parking on Wells Street is not permitted.
 

Map it Out
One-way paths have been created on the Ground Floor of the Museum, and certain exhibits are temporarily closed. On exhibit floors, visitors are encouraged to peruse at their leisure while maintaining proper distancing.

Be Respectful
Please maintain six-foot social distancing between family groups during your visit. Only one family group will be allowed per elevator at a time, which may increase wait times.
 

Keep Clean
Please take advantage of the hand sanitizer stations throughout the Museum and avoid touching surfaces.
 

See You Soon
All visitors should exit through the MacArthur Square parking structure exit in order to avoid cross-traffic patterns.
---
Know What is Closed
Please note the following parts of the Museum are closed right now:
Daniel M. Soref Dome Theater and Planetarium 
Haymarket General Store 
Puelicher Butterfly Wing 
Bugs Alive!
Crossroads of Civilization 
Igloo in the Arctic
Select interactive exhibits and features 
Café
Services discontinued:
Locker rental 
Stroller rental 
Drinking fountains 
Member Clue Crew 
Photobooth 
Penny press 
Live programming 
Guided tours 
Explorer Kits
Noise-reducing headphones
Access to exhibit areas will be one-time only. Once admitted, visitors will not be able to leave and re-enter.
---
Accessibility
The Personal Cares and Sensory Rooms remain open for use. Complimentary wheelchairs are available at the ticket window. For information on availability of additional services at this time, please visit our FAQ.
*If you have a disability and need to enter through the MacArthur Square parking structure, please proceed to the main concourse for ticketing/scanning.
---
Updated Cleaning Procedures
MPM's professional cleaning team is onsite during operating hours to sanitize and clean the restrooms, lunchroom, common areas, and exhibit galleries, including frequent cleaning of surfaces that hands touch to reduce the spread of germs (i.e. doorknobs, light switches, handles, etc.)
Deep cleaning takes place when the Museum is closed; floors are mopped and vacuumed, restrooms are deep-cleaned, and all surfaces are sanitized.
The air in the building is circulated with fresh air to maintain clean air at all times.
Signs are displayed throughout the Museum to remind visitors to wash their hands.
All staff members are required to frequently wash their hands.
How you, the visitor, can help:
Please utilize our 25+ hand sanitizer stations located throughout the Museum.
Maintain social distancing. A six-foot distance is encouraged between family groups; that's 18 swallowtail butterflies!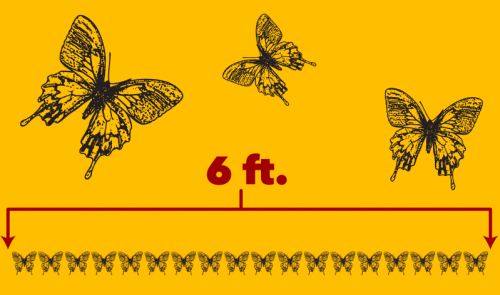 Stay home if you are not well. We welcome all families to visit when they are healthy and ready to play!
Notify Museum staff if an area or object needs attention.
---
Employee Safety Guidelines
Staff enter and exit MPM through the Loading Dock/Security Dispatch only.
All employees must pass a COVID-19 screening prior to reporting to work each day.
Masks will be worn in all common areas of the Museum at all times.
Staff will maintain a six-foot social distance at all times, or be behind a plexiglass barrier, and avoid touching surfaces.
---
Hours and Tickets
Please note our current hours of operation are Thursdays through Sundays, 10:00 a.m. to 5:00 p.m.
To receive the $2 discount for Milwaukee County residents, you must register with a valid address.
Members must register and/or log in to receive benefits. Not a member? Join today!
Time to kill before your timed entry? Stop by the Hilton Milwaukee City Center.
---
Enhance Your Visit
Whether you come visit us in person or enjoy monthly programming from home, we'll bring you new videos, activities, and information about one of our beloved exhibits each month.
---
FAQ
Still have questions? Please review our Visitor Policy FAQ.
---
Click here for information in Spanish.
Click here for information in Hmong.