The costs associated with a field trip can add up quickly.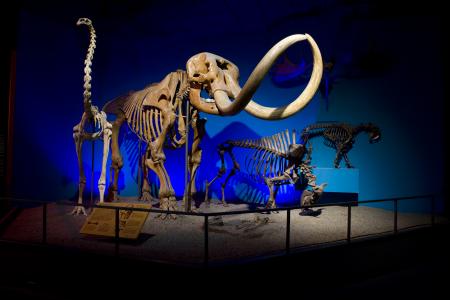 MPM's Fossil Fuel Fund may be able to help alleviate some of these costs. The process is easy: Simply book your field trip, then apply for a Fossil Fuel Fund award.
Applying for Funds
On July 1, we will begin accepting applications for field trips that will occur between August 1, 2019 and June 15, 2020.
Eligibility Requirements and FAQs
School must be located in southeastern Wisconsin and within one of the following seven counties: Milwaukee, Ozaukee, Washington, Waukesha, Racine, Kenosha, or Sheboygan.
School must have at least 60% of student population qualifying for reduced and/or free lunches.
Awards are distributed on a first-come, first-served basis and will provide up to $300 in credit toward the cost of your Museum field trip. School may apply for up to five awards per year. Fossil Fuel Funds would not apply to any offsite or outreach program costs.
Trips funded by another grant program, such as Kohl's Cares Field Trip Program, are not eligible for a Fossil Fuel Fund award. Funds cannot be awarded to eligible schools to cover bus fees. Milwaukee County schools may apply for funds to help cover costs for programs and/or special exhibits during Milwaukee County free field trip months (September-November).
School may apply for awards on multiple consecutive years, or as need demands.
Applications will be reviewed as they are received (within 30 days of submission).
Before applying for a Fossil Fuel Fund credit, you must have made a reservation for your class by calling 414-278-2714. Reservation and Fossil Fuel Fund application need to be completed 30 days prior to visit in order to be considered for the credit.
The Fossil Fuel Fund credit will only be applied to unpaid reservations. No refunds or credits will be issued for paid reservations.
Funded visits must occur Monday-Friday and by June 15, 2020.

Questions?
If you have additional questions, please email us at FossilFuelFund@mpm.edu
---
The Fossil Fuel Fund is generously funded by:
Heart of Canal Street -- Potawatomi Hotel & Casino's community program that raises funds for children's charities -- and Milwaukee Public Museum, with media partner OnMilwaukee.com, was chosen as one of a select number of signature charities to receive Heart of Canal Street funding in 2016. Heart of Canal Street has raised millions of dollars for area children's charities and honors the Potawatomi tradition of nurturing younger generations so they grow to lead healthy, productive lives.