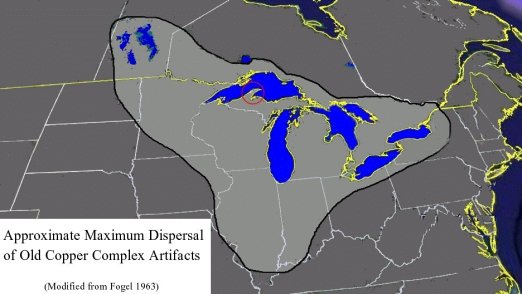 The broad distribution of the Old Copper Complex is invariably the result of trade throughout the Great Lakes region. For instance, it has been noted there is a close burial pattern and material culture resemblance between the Oconto cemetery in Oconto county Wisconsin and the Brewerton and Frontenac burials of New York State (Brown 1904:325). This pattern likely indicates some form of cultural interaction and knowledge sharing over a very large geographic area. Indeed, similar artifact types have been found in Manitoba and Ontario (Steinbring 1966).
Within Wisconsin there is a clear indication of where the major concentrations of Old Copper finds are located. The distribution map of copper material housed at the Milwaukee Public Museum shows the highest density of artifacts coming from the east-central portion of the state, specifically near Lake Winnebago. The museum also houses a very large concentration of copper artifacts totaling nearly 400 pieces from Hancock, on the Keweenaw Peninsula of Michigan. There are many prehistoric copper mines located in this area, which supplied a large portion of the Great Lakes with this important resource.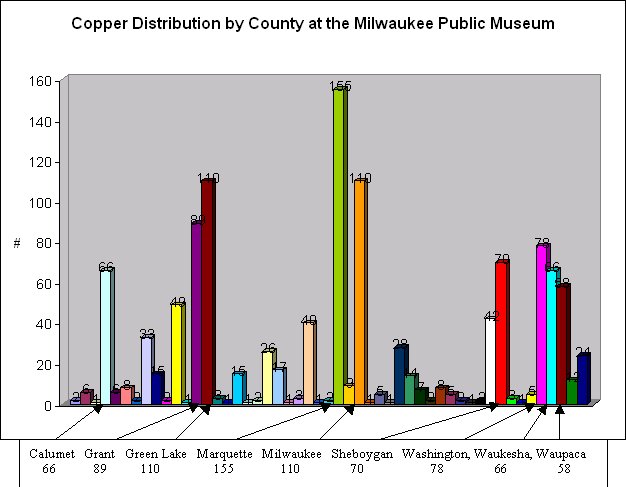 This chart shows the density of Wisconsin Old Copper artifacts arranged by county that are housed at the Milwaukee Public Museum. Clearly, Marquette County has a large density of this material, followed by Green Lake and Milwaukee counties. It should be noted that there were 221 artifacts that were not included due to their lack of provenience information.