Immerse yourself in the simple beauty and tranquility of Asian decorative arts.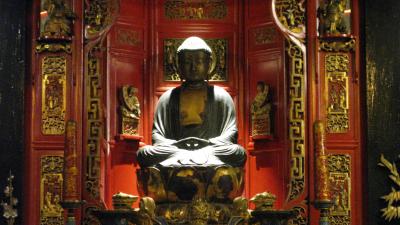 Visit the newly refreshed exhibit Tian Chao, or "heavenly dynasty," a selection of objects from MPM's China Decorative Arts collection. See an intricately carved elephant tusk from the mid-19th century, a striking Late Qing Dynasty porcelain table top displaying nine colorful dragons, and other priceless and unique artifacts.
Stroll through a Japanese courtyard and peer into a home to see women playing a game of cards called 100 Poets. To create on a human scale the infinity of nature, and then to harmonize nature with man, are among the goals of the Japanese garden. Stones, plants, and water are the simple elements of this art.
Experience the exciting variety, color and culture of the market in Old Delhi, India. Amid the raucous shouts of the buyers and sellers, a young boy directs his elephant past an old snake charmer playing his trade
You can travel throughout the entire Asian continent including Thailand, Tibet, and Burma.