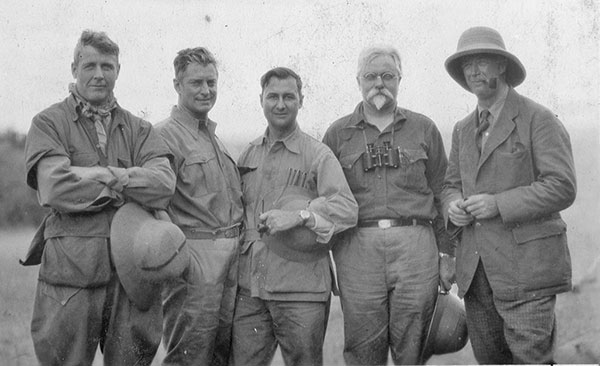 From left to right: John Cudahy, Carveth Wells, and James L. Clark, Samuel Barrett, and Leslie Carlisle. (Clark and Carlisle were on a separate expedition for the American Museum of Natural History.)
John Cudahy (1887-1943)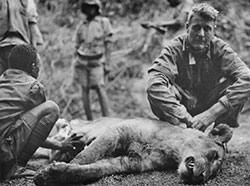 John Cudahy after killing the first lioness of the expedition.
John Cudahy was a Milwaukee-native who served as the American ambassador to Poland, Ireland, Belgium, and Luxemburg in the 1930s and 1940s. Cudahy, a Harvard graduate, later attended law school at the University of Wisconsin. He served in World War I and participated as an American envoy in the Russian Civil War. In Milwaukee, Cudahy ran his family's real estate company and built the Cudahy Tower Apartments. Cudahy was a major financial contributor to the Cudahy-Massee expedition, as well as a participant. Without Cudahy, the expedition would not have been possible.
Burt A. Massee (1889-1972)
Burt Massee, a Milwaukee native spent his adulthood in Chicago, Illinois. He was a former executive vice president and director of Colgate-Palmolive-Peet, now known as Colgate-Palmolive, and was the founder of Chicago's Scientific Crime Detection Laboratory. He served as the jury foreman for the St. Valentine's Day Massacre trial in 1929. Massee helped finance ballistics experts during the trial and this experience helped him to persuade officials of Northwestern University to open a facility to study scientific methods of crime detection. This laboratory later developed the lie detector test. In Chicago, he built the skyscraper now known as the Palmolive Building. Massee was also a fellow of the Royal Geographic Society and his fondness of the Milwaukee Public Museum during his childhood, led him to help fund the expedition.
Samuel A. Barrett (1879-1965)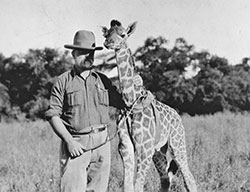 Dr. Barrett with a reticulated giraffe.
Dr. Barrett was born in Alaska and grew up in Ukiah, California. He became curator of anthropology at the Milwaukee Public Museum after earning his Ph.D. from the University of California in 1909. His was the first doctorate in Anthropology granted west of the Mississippi River. In 1920, Dr. Barrett was appointed director of the museum until his retirement in 1940. Dr. Barrett is credited with transforming the museum from a minor institution to a first-class museum. He revolutionized the way the museum catalogued artifacts, collected, and secured funding.
Osborne Goodrich (1896-?)
Osborne Goodrich was a native of Milwaukee who financially contributed to the expedition and participated, as well. Goodrich attended Yale University and served in France during World War I as a military observer. After the communist takeover in Russia, Goodrich coordinated a relief effort at Tiflis-Soviet Georgia. Goodrich ran a cattle ranch in Tanganyika (present day Tanzania).
Owen Gromme (1896-1993)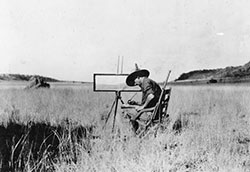 Owen Gromme, the sketch artist for the expedition.
Owen Gromme served as the sketch artist and taxidermist for the Cudahy-Massee Expedition. Gromme had a 43-year career with the museum, primarily as a taxidermist. A staunch conservationist, Gromme dedicated his life to preservation of bird life, and protested hunts and pesticides that would diminish their natural habitat. He helped found the International Crane Foundation and he also wrote Birds of Wisconsin, one of the first books detailing birdlife in the state. He also created numerous environmental paintings.
Irving J. Perkins (?-1969)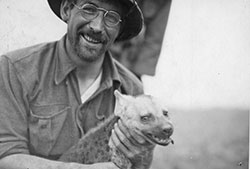 Irving Perkins with a young hyena.
Irving Perkins was the other taxidermist on staff during the Cudahy-Massee Expedition. Perkins served as a taxidermist for the Milwaukee Public Museum for 22 years. Upon his retirement in 1945, he was the chief mammal taxidermist. Perkins then spent the remainder of his life advocating for conservation in Waukesha County, Wisconsin, and he transformed his home into a sanctuary for animals.
Carveth Wells (1887-1957)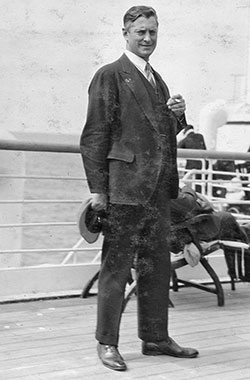 Carveth Wells while en route to Kenya.
Carveth Wells was one of the most famous travel lecturers of his time. Wells was a fellow of the Royal Geographic Society who graduated from London University with a degree in civil engineering. He traveled extensively and wrote many books based upon his travels. Additionally, Wells produced films and gave radio broadcasts based upon his adventures. His knowledge and expertise were an invaluable resource for the expedition.
"Sim"
Sim, short for Simba, was an abandoned lion cub found by members of the expedition. He immediately became the official mascot of the Cudahy-Massee Expedition while in Africa. He returned to Milwaukee with the expedition and resided at the museum on the rooftop. Over time, Sim outgrew his enclosure and was moved to the Milwaukee County Zoo where he remained for the rest of his life. After his death, Sim returned to the Milwaukee Public Museum and as part of the Africa exhibit.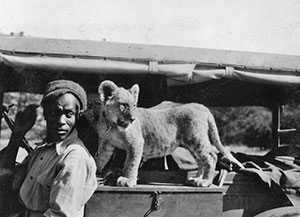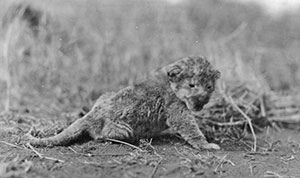 Sim when he was first found.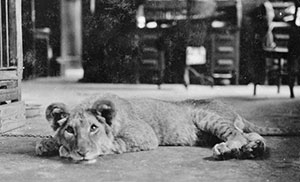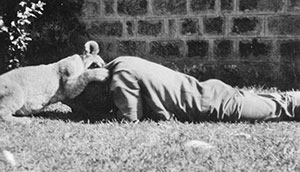 Sim playing with Carveth Wells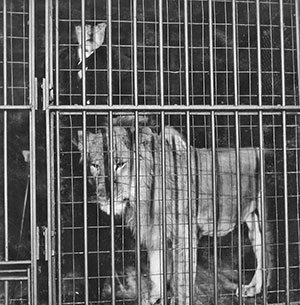 Sim on his way to the zoo with Dr. Barrett in the background.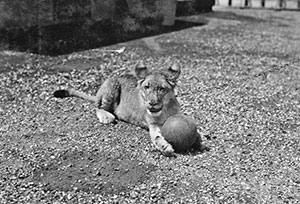 Sim with a bowling ball.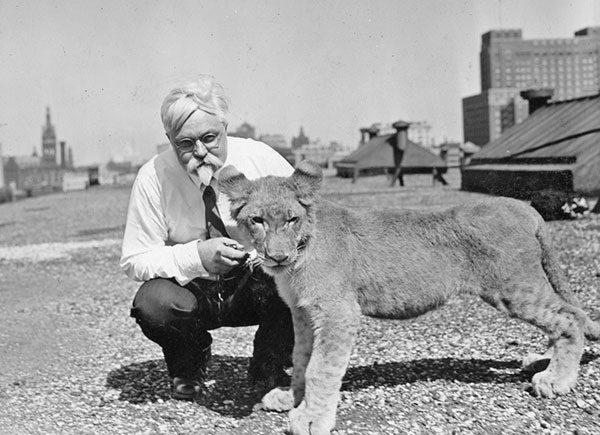 Sim on his rooftop home with Dr. Barrett.