Masks and Ceremonial Attire
Masks are used for many types of ceremonies in the Mambila culture. The Schneider collection includes nine masks made of Silk-cotton wood (Ceiba pentandra). Five of the masks are of the suah dua, or "big mask," type and are 'crow' masks (crows are prevalent on the Mambila Plateau). Suah dua are masks that are similar to helmets and are worn with netted banana fiber and feather suits. The kurum Society, a dancing and collective work group, uses these masks biannually during the planting and harvesting dances. Masks are also used in ceremonies when young men become members of suah, the secret mask making society.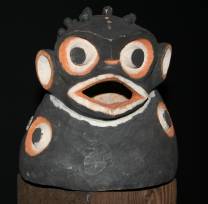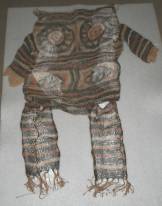 Figures (sculpture)
There are two types of sculpture: simple pieces tied together (kike) and anthropomorphic figurines (tadep dua). Wood figures are used to represent the ancestors, who are responsible for the hamlet's wealth, sometimes called 'guardian' figures. The figures are recognizable by the heart-shaped face and the pigments used. These figures and masks, talked about previously, are not allowed to be seen by women, and are kept in ritual storehouses in front of a painted screen, hanging on a net and guarded by the head of the family.

Terra Cotta
The Mambila ceramics collection consists of nine objects of undetermined function. Mambila terra cotta sculpture is unique in the region, and constitutes something of a mystery. The collection includes four standing male figures, two seated male figures, a land crab figure, and two eccentric figures, male and female, which may not be of Mambila origin. In addition to terra cotta sculpture, there is also a unique double bell or gong with male and female figures.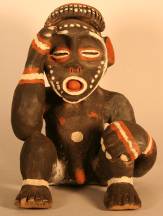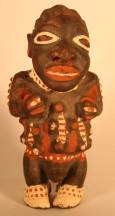 Objects of Daily Life
Everyday objects are very important to anthropological collections. Anthropologists study these objects to understand about the common aspects of a culture. For example, there are two stools in the collection that were used by women during child delivery. From these items, anthropologists can learn more about the Mambila's birthing rituals, religion, and health care. Fish/bird nets, knives, fire-making devices, and spice containers show us how the Mambila caught and prepared their food. There are also several combs, a hair braider, and other hair holders, along with photographs that provide visual examples of how they did their hair.