The two major donors who made this collection possible are Dr. Gilbert Schneider and Dr. Robert Ritzenthaler.
---
Gilbert Schneider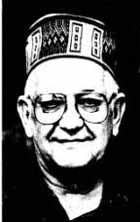 Gilbert Schneider
The Schneider collection, which came to the Museum in 1968, is one of the finest and most representative assemblages of Mambila art anywhere in the world.
Gilbert Schneider was born near Dallas, Oregon, in 1920 and ordained as a Baptist minister in 1944. One aspect of the ministry that attracted him was the possibility of traveling through missionary work. Before leaving for his assignment in Africa, Schneider spent a few months in New York at the American Museum of Natural History learning how to collect and document objects from anthropologist Dr. Van Duessen.
Between 1947 and 1951, Schneider and his family were based at the Warwar River in northern Nigeria. This area encompassed Mambila territory, which is where he collected all the artifacts and photographs he donated to the Museum. Between 1952 and 1960, he administered the New Hope Settlement for leprosy at Mbing, Kingdom of Kom, in the Cameroon. After returning to the United States in 1961, Schneider received his doctorate in linguistics from Hartford Seminary Foundation in 1966. Between 1964 and 1970, he was a Peace Corps instructor at Ohio University and then a Lecturer and Associate Professor in the Linguistics Department there from 1971 to 1989. He retired from teaching in 1989 and founded Intercultural Education Services in Portland, Oregon. Dr. Schneider died in July 1999.
---
Robert Ritzenthaler

Robert and Pat Ritzenthaler
Robert Ritzenthaler was born in Milwaukee on November 11, 1911. He obtained a teaching certificate from Milwaukee Teachers College (now part of University of Wisconsin - Milwaukee) and was Curator of Anthropology at MPM from 1938 to 1972. He received two PhDs in anthropology, one from Madison in 1940 and the other from Columbia University in 1950. Ritzenthaler felt fieldwork was the heart of anthropology, whether it was archaeological or ethnographic, and he went into the field almost every summer. In 1959, Ritzenthaler and his wife, Pat, spent six months in what was then the British Cameroons. From this fieldwork, he collected and donated three objects to the Mambila collection. Dr. Ritzenthaler died in March 1980.
Books published
Ritzenthaler, Robert and Pat. Cameroons Village. Milwaukee: North American Press, 1962.